The three-week campaign leading up to this week's vote was marred by acrimonious exchanges.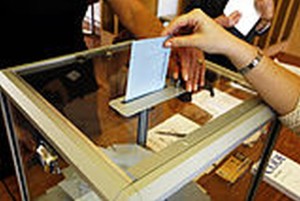 Or Akiva, May 11 – A high school junior who ran an unsuccessful campaign to lead the student government has accused Russian President Vladimir Putin's government of meddling in the election, and called on the school administration to conduct an investigation.
Dror Finkel, 17, lost to his classmate Shiri Navon this week in Student Council elections for the 2017-18 academic year at Ben-Gurion High School. Several surveys prior to the vote on Tuesday indicated a closer race than the final results bore out, with Navon attracting 51% of the vote and Finkel garnering only 20%. The remaining votes were divided among four other candidates, none of whom received more than 10%. One ballot out of the approximately 300 included Justin Bieber as a write-in. The discrepancy between the polling data and the election outcome has prompted Finkel and his supporters to raise suspicions of interference with the process, and Finkel believes he knows whom to blame.
"It makes no sense that I didn't get even half as many votes as she did," charged the junior. "All the people I asked said they'd be voting for me. There must have been some meddling in the process, and the results are tainted. I demand that the principal call for an independent investigation into this apparent election fraud, and then we can determine whether to hold another, cleaner election."
Finkel denied he was accusing the victor Navon of wrongdoing. "I'm not saying any of the candidates engaged in malfeasance," he explained. "Just that this has all the hallmarks of interference, which Putin has been doing all over the place. We need to examine the evidence."
"It really has to be an independent investigation, though," stressed Finkel. "There's no guarantee the internal mechanisms haven't also been compromised by Putin or his allies. We have to work for what's in this student body's best interests, and I'm afraid we can't do that when there's the shadow of suspicion hanging over the president-elect – who's to say she won't just do Putin's bidding and undermine everything we've worked for all these years?"
The three-week campaign leading up to this week's vote was marred by acrimonious exchanges among the two front-runners, including accusations that the other was merely a shill for the administration, or harbors loyalties to rival institution Bialik Secondary School. On three separate occasions the campaign staffs were warned against the negative tone of their rhetoric.
School principal Yaakov Beracha has yet to announce a decision on whether to open such an investigation. "Please make an appointment to speak with him," a representative was quoted as saying. "Do I have to call the security guard to escort you out? How did you get in here anyway?"
Please support our work through Patreon.