The driver moved to close the gap as quickly as possible, lest, one must assume, a surfeit of air wreak untold havoc on everything in the vicinity.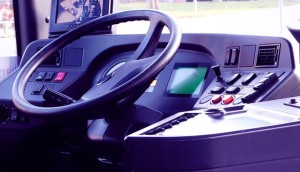 Jerusalem, March 30 – The operator of a local bus covering the Givat Ram-Ramat Rachel route has taken it upon himself to prevent the formation of following distance between his vehicle and the vehicle immediately in front of his, witnesses are reporting.
The driver, a middle-aged man, continually accelerates and then applies the brake of the southbound number 7 bus with abruptness that under other circumstances would be suitable only for the avoidance of a crash, according to a queasy passenger near the rear door. When more than several centimeters of space open up between the car, bus, or truck preceding his on the street, the driver moves to close that gap as quickly as possible, lest, one must assume, a surfeit of air wreak untold havoc on everything in the vicinity.
Observers praised the heroism and nerve of the driver. "Excuse me, I'm going to be sick," hailed a woman in the back row, struggling to get to her feet in anticipation of disembarking at the next stop. "I've never been on a ride like this."
Transportation experts stood in awe at the pioneering spirit demonstrated by the driver. "I must confess I'm mystified by what he's trying to achieve," commented a taxi driver in the vicinity. "He's using more fuel than he would by just drifting forward slightly, or by tolerating a gap larger than five centimeters, and he's gaining nothing. What the hell?"
Witnesses also noted that the driver's dedication to prevent following distance from intervening between his vehicle and the one in front has translated into a more efficient approach to making stops for the passengers. "Hey! Driver! Open the door! Yes I DID press the Stop button!" reacted one, who voiced surprise at the driver's decision to make only some of the stops the passengers had signaled him to make, unaware that only stopping at two of every three stops would save wear and tear on the expensive hydraulic mechanism that opens and closes the doors of the vehicle.
Authorities charged with enforcing regulations and laws related to road safety appeared impressed enough with the driver's competence to handle the situation that they declined to intervene. "Stop wasting my time before I head-butt you and arrest you  – and turn off that camera," explained a member of the police force's Rapid Response team who was trying to watch a soccer game in a nearby falafel and shawarma establishment.
Please support our work through Patreon.