After a successful pilot program within the militia will the unit be authorized to prey the gay away in wider Gazan society.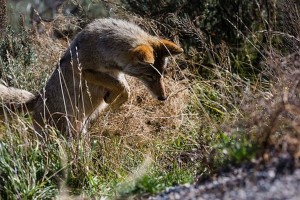 Gaza City, December 4 – Efforts by the ruling Islamist party in this coastal territory to cleanse the area of homosexuality took a step up today with the introduction of a K-9 unit of sorts tasked with eliminating the moral scourge by preying.
Hamas announced the formation today of the Jackal Company, a group of 150 trainers, caregivers, and animals that includes actual jackals to locate homosexuals in Gaza and prey accordingly. A spokesman for the organization told reporters that the initial focus of Jackal Company will be the ranks of the movement itself, and only after a successful pilot program within the militia will the unit be authorized to prey the gay away in wider Gazan society.
Yusuf Ibn Awaa made the announcement during a press conference Sunday morning in the lobby of Shifa Hospital, not far from Hamas's command center in the facility's basement. "In a formal sense Jackal Company is a division of the military police," he stated. "But it will have an independent command structure and oversight mechanism, given the sensitivity of the subject and the critical role it plays in the continued moral paradise that Gaza will become under continued stewardship of the Islamic Resistance."
Ibn Awaa explained that the jackals were recruited from the wild, though some entered the program after the city zoo was forced to close three years ago under financial constraints that caused problems with logistics, the availability of keepers, and safety. "The sudden availability of the jackals proved the spark for this inspired idea," he recalled. "But it would be both remiss and improper not to acknowledge the debt we owe to certain American fundamentalist evangelicals for the phrase 'pray the gay away' that served as the immediate source of the concept behind our Prey the Gay Away program." Personnel will consist of local volunteers, former zoo employees, and recruits from various foreign humanitarian organizations dedicated to helping Hamas.
Hamas leaders hope that using jackals to detect and eliminate homosexuality will prove more economical than the current system of humans monitoring one another's behavior and listening for reports of homosexuality, followed by show trials and manual execution of suspects by throwing them off rooftops. "Iran is supplying a good chunk of our movement's budget," noted Ibn Awaa, "but we cannot assume that largess will continue forever. We must take steps to make our mechanisms more sustainable and responsible. This is also what Iran, like any competent donor, wants to see us do. Success is not guaranteed, but we will continue to prey."
Please support our work through Patreon.