By Julius Streicher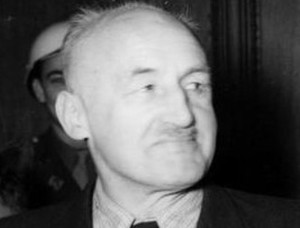 When the Third Reich fell and Germany surrendered in 1945, I though my world was lost. My life's work, my magnum opus, if you will, died an ignominious death, even before I was hanged at Nürnberg. Little did I know that lo these decades later, the legacy of my baby, Der Stürmer, would achieve a revival in the school textbooks of the Palestinian Authority.
It truly was mine: unlike the Volkischer Beobachter, Der Stürmer was not an official organ of the Nazi Party, but my own private enterprise. My little media empire, which I nurtured from its infancy in 1923 to nearly half a million readers around the world in 1937. It all came crashing down with the Reich, forced to cease publication and distribution as the Red Army closed in. I felt shattered, lost. My death was but the coda of what had already been resolved.
To discover, then, that Palestinians have adopted my caricatures, themes, rhetorical style, and editorial sensibilities to demonize Jews in their school books was to discover a measure of life after death. Perhaps, in a way, our Führer's Thousand-Year Reich does continue, even if not on German soil! I feel revived. Rejuvenated, if you'll pardon the sound of the term.
It is not a perfect fit, of course. One cannot simply copy and paste the articles, substitute "Palestinian," "Muslim," or "Arab" for "German," and Adolf's your uncle. The social, economic, and cultural contexts differ quite a bit. Jews, for example, do not appear to play a role in Palestinian banking. Nevertheless, a cursory review reveals the editors of the Palestinian books have done a yeoman's job of translating my work into the local idiom. I am proud to be associated with this endeavor.
One can only hope that with time, when Palestinian-Arab society also crumbles to dust and ashes, and when it comes time for the next, well, civilization, to pick up the banner of genocidal antisemitism, worthy hands will hold that banner aloft. Will it be the Iranians? China? We cannot know, when the Reich is still in its comparative infancy. But we can remain optimistic that whoever sees fit to demonize the Jews collectively as a political philosophy, as the ultimate source of all societal ills, will always have my body of work on which to base rhetoric.
I may have swung from the gallows, but my legacy and I live on in the Palestinian education system. Heil Hitler!
Please support our work through Patreon.