The conference was nevertheless marred by a woman in the audience greeting Minister of Education Naftali Bennett with a Nazi salute.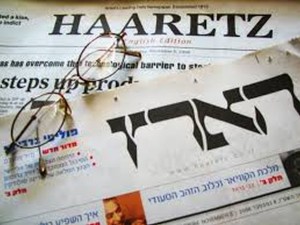 Tel Aviv, June 12 – A "Peace Conference" convened by one of Israel's most venerable dailies succeeded in avoiding a phenomenon that had plagued previous events organized by the same publication, that of speakers at the conference inserting things in their anuses.
While today's Haaretz Peace Conference was marred by a woman in the audience greeting Minister of Education Naftali Bennett with a Nazi salute, attendees noted the absence of anyone on stage shoving an Israeli flag up his butt, and remarked on the progress that has been made since the last Haaretz conference in that regard.
"Baby steps, you know?" offered Ayn Nali, a journalist who attended both events. "The Nazi salute was unfortunate, but you know what happens when a person assumes the moral high ground as a birthright. Maybe next time Haaretz will even be able to generate attention without some provocation. But maybe not."
"They could try some actual journalism," suggested Walter Duranty of The New York Times. "It's important to carry the opinions even of controversial voices such as Gideon Levy and Amira Haas, but let's not forget the raison d'être of a newspaper is news. Factual, sober reporting of real news. Not the crap they try to pass off as truthful reporting. But what would I know, you know? I've never shoved an Israeli flag in my backside to make a political point. Maybe it accomplishes something of which I'm unaware. They are, after all, 'the newspaper for thinking people.'"
Conference organizers hope to build on the flag-suppository-free success. "If we can duplicate this achievement we'll be able to build on it," gushed Haaretz publisher Amos Schocken. "I don't want to get ahead of myself or anything, but we'll know we're onto something if at our next event as well there's no one on stage conducting unorthodox proctological procedures. Let's get that far before we start making firmer predictions."
Not everyone expressed satisfaction at the direction the Haaretz conferences have taken. "Since when is Haaretz a journalism outfit?" wondered New Israel Fund President Rachel Liel. "They market themselves to European entities as an advocacy organization, and it's a shame to see them abandoning that core mission so they can pretend to be just some bunch of reporters who care about the dry facts behind the news. If the next Haaretz conference doesn't feature at least one barely relevant cultural figure dressing up his narcissism as political protest, count me out. Up yours, Haaretz, is what I'll be saying."
Please support our work through Patreon.