"I just know I could have been part of something uplifting and amazing, and I just decided not to."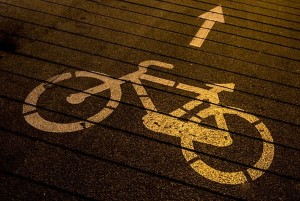 Tel Aviv, October 1 – A resident of Israel's commercial and financial hub who declined the opportunity to move about the city on two wheels yesterday fears he may have squandered his chance to experience was the Jewish Day of Atonement is all about, local sources are reporting.
Gal Teomim, 23, confessed to his flatmates this morning (Sunday) that because he had spent the day watching Netflix and using his Playstation instead of taking advantage of the weather and car-free streets, he will have to wait until next year to get into the spirit of the day.
"I'm a little bummed," he was heard to admit. "I realize Yom Kippur has always involved making conscious change, and what more appropriate conscious change could there be than getting off my duff and using my bike? Even if I only rode it to the beach or something. Then at least I'd have something worthy of the day."
Yom Kippur, the most solemn day on the Hebrew calendar, includes observances that have resulted in few, if any, motor vehicles on the roadways, a feature of the day unique to Israel that affords cyclists a once-yearly opportunity to travel along thoroughfares otherwise rendered perilous by cars, trucks, and motorcycles. In ancient times, the Day of Atonement was characterized by fasting and a special Temple service, but the modern interpretation of the day outside of irrelevant holdout communities beyond the boundaries of Tel Aviv involves types of recreation not possible in the presence of hazardous motor vehicles.
In a quirk of technology that was first noticed last year, the mobile Waze app reported congestion on Tel Aviv-area highways through most of the day, the result of users' devices transmitting their locations and velocities while on bicycles instead of in cars. The software's algorithm interpreted the data as reflecting massive traffic jams, when in fact not a car was on the road.
Teomim, however, voiced frustration, primarily with himself, that he did not participate in the traditional Yom Kippur bicycle observance. "I'm not sure what made me just sit and veg out at home," he lamented. "I just know I could have been part of something uplifting and amazing, and I just decided not to."
"You know, maybe there should be a process to this," he suggested. "Maybe there should be a whole season built into the calendar that is focused on self-improvement, on making an assessment of one's life and direction, of examining one's actions and tendencies, and working to change them for the better, so that by the time Yom Kippur rolls around, it's not just a flash in the pan and something you can miss if you're just not feeling it that day. Somebody should create something like that."
Please support our work through Patreon.