Jewish leaders expressed more puzzlement than outrage at the pastor's assertion.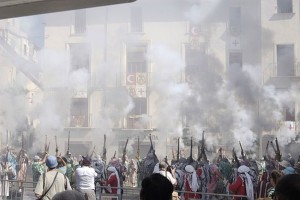 Crown Heights, July 10 – A prominent figure in New York's African-American community invoked the race riots of summer 1991 today, asserting that the Jewish State deserves the current spate of automotive ramming attacks by Palestinians because a car driven by a Jew killed a young African-American boy, sparking the deadly riots.
During his weekly radio address, Pastor Eliphaz Amalek of the Solidarity Church in Crown Heights included in his pontifications a reference to the current Palestinian violence, which has been characterized in large part by automotive assaults or stabbing attempts. Dozens of Israelis have been killed and many more injured since the spree began nearly three years ago, a fact that Pastor Amalek attributed to divine justice for the death of seven-year-old Gavin Cato, killed when a car from the Lubavich Grand Rabbi's motorcade struck and killed him.
"The Lord's retribution surely comes to those who incur His wrath," railed the pastor on his Sunday appearance on WEVD-AM radio. "The state of the Jews now faces a storm of death by car, in the name of poor Gavin Cato, cut down in his precious youth by a Jewish car. The Lords remembers, and the Lord chooses the times and places to exact His retribution."
Jewish leaders expressed more puzzlement than outrage at the pastor's assertion. "I'm actually just confused," answered Rabbi Chaim Steinmetz of Kehillath Jeshurun on Manhattan's Upper East Side. "I mean, does this guy realize Israelis have been dying in large numbers due to car crashes since long before the Crown Heights riots? The impact, so to speak, of the wave of automotive terrorism on statistics is negligible."
"And you know who is disproportionately represented in the death statistics from car crashes?" he continued. "Arabs. Especially Bedouin. Not to get religiously polemic here, but one wonders what God Pastor Amalek has been worshiping. Clearly not the God of Reading Comprehension."
Other African-American leader sought to downplay the pastor's remarks. "It was a rhetorical flourish," argued Reverend Jeremiah Wright. "What Black spiritual leader of any influence would imply Jewish collective responsibility for the unintentional acts individuals? I mean, aside from it being mainstream Christian ideology for like eighteen centuries. Ignore that part. And those of us who demand that Jews denounce Zionism before being allowed to join various liberal movements – that's not important."
Pastor Amalek declined to be interviewed for this article, sending a spokesman to explain that he refuses to cooperate with the Jewish-controlled media that would seek to portray him as antisemitic.
Please support our work through Patreon.