"The Waqf can't claim to be in control of Islam's 'third-holiest site' if Israel can impose such procedures without their consent."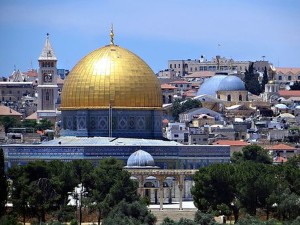 Jerusalem, July 17 – Islamic authorities at the sacred compound containing the Al Aqsa Mosque and the Dome of the Rock shrine suspect that the metal detectors installed by Israel over the weekend after a shooting attack there killed two police officers are intended not to reveal weapons that worshipers attempt to smuggle into the Temple Mount, but lack of Muslim confidence in the legitimacy of their claim to the site.
Waqf leaders announced a boycott of prayers today upon the site's reopening with the security measures in place, urging Muslims not to legitimize Israel's imposition of the detectors by attending services at Al Aqsa, lest the technology determine that Muslims feel threatened by such a move only because they cannot mount a consistent or convincing argument to justify the continued exclusion of Jewish worship from the holiest site in Judaism.
However, according to technology experts, the Waqf appears unaware that the detectors perform their function regardless of whether worshipers pass through them, and have already alerted their operators to collective Muslim insecurity over the impossibility of mounting a coherent, factually accurate, and morally defensible system that favors a Muslim monopoly over worship on the Temple Mount.
"We're getting a strong reading, and that's with only a few dozen people here," noted one of the detector operators. "This is some pretty powerful technology."
The experts noted that alone, the detectors on the Temple Mount could not perform the task, but required data supplied by other devices to make their determination. "Without metal detectors already in place at other sites, from shopping malls to the Kabaa itself in Mecca, the insecurity detectors here would have less to go on," observed Tzvi Utt, a security consultant. "But the fact that Muslims raise no objections to those other detectors, including the ones at the Western Wall for all who visit there, primed the insecurity detectors to beep. Their relatively simple algorithm concluded, and the Waqf must suspect this, that this isn't an issue of metal detectors at all, but of control, and the Waqf can't claim to be in control of Islam's 'third-holiest site' if Israel can impose such procedures without their consent. That poses a serious challenge to the Muslim sense of power and of security in the faith's axioms and claims."
"Oh, yeah, we've known about that for centuries, actually," explained a commander of Israeli police at the site. "Our shame detectors have been going wild ever since their combined forces failed to commit genocide of the Jews in 1948. We had to disconnect them because of the constant racket."
Please support our work through Patreon.