"We're just here to help," added the ministry spokesman, unable to suppress a smirk.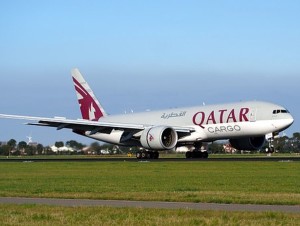 Jerusalem, June 5 – As Arab state after Arab state closes its skies to Qatar's national carrier amid ratcheting political and diplomatic confrontation, the Jewish State offered to let Qatar Airways fly over its territory en route to destinations in Europe, Africa, and the Americas.
Saudi-Qatar relations have suffered severe breakdown in the last two weeks over the latter's open support for various terrorist groups. While Qatar's hosting and bankrolling of Hamas has not proved to be an ideological or political problem for Saudi Arabia until now, increasing tension and rivalry with Iran, combined with a push by American President Donald Trump to repair relations with the Arab world after Obama's empowerment of Iran, have pushed Saudi Arabia to assert its influence in the Persian Gulf and Middle East at large by demanding that the tiny but prosperous emirate to its east toe a new line when it comes to support for militant Islamists. This morning, Saudi Arabia, Egypt, the United Arab Emirates, and several other Arab and Muslim states announced it would no longer allow Qatar-flagged flights to overfly them, and a number went so far as to cut off diplomatic relations. Israel, which has no formal relations with Qatar, has now invited them to use Israeli airspace.
"We cannot offer a substitute for cutting across the Arabian Peninsula, but it's the only gesture we can make at the moment," explained a spokesman for Israel's Ministry of Foreign Affairs. "For now, Qatar Airways is forced to fly north into Iran, Iraq, and then Jordan or Turkey in order to reach the Mediterranean, Europe, and North Africa. By flying over Israel, the Qatari jets may shorten their trips to parts of the Mediterranean by hundreds of kilometers."
It remains unclear whether Qatar will avail itself of the Israeli offer. Experts noted that the default accusation in the Arab world regarding enemies or rivals is that one's opponent is a Zionist, and by accepting the offer, Qatar runs the risk of granting legitimacy to such a claim. However, a number of the countries that seek to isolate Qatar, such as Egypt, already maintain diplomatic and trade relations with the Jewish State, removing some weight from the "Zionism" charge.
"We're just here to help," added the ministry spokesman, unable to suppress a smirk. "I also know Saudi Arabia provides most of Qatar's food, and now they've cut off shipments, so if the Emir and his people in Doha want to send some aircraft over to ferry our agricultural surplus and some chocolate-covered, almond-creme-filled Tortit wafers, we'll be ready to provide. It's Ramadan, and I'm given to understand that Muslims who are expected to be fasting, or hunger striking, or whatever, are fond of Tortit."
Please support our work through Patreon.