The team looked at soccer hooliganism, microbreweries, film, the Scientific Method, paid vacations, fidget spinners, internet memes, museums…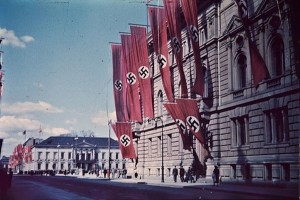 Berkeley, June 12 – New research by a team of anthropologists and historians has determined that not a single element of Western culture that developed in Europe and spread to North America did not arise out of a feeling that the white race must dominate the rest of the world.
Writing in this month's issue of the journal Berkeley Indigenous-Anthropological Studies (BIAS), the researchers describe how they analyzed approximately ten thousand characteristic aspects of Western culture over the course of eight years, and concluded that each and every one grew out of white supremacism.
The article details the process by which the scholars and postdoctoral researchers conducted their study, and listed a portion of the cultural elements they examined in making their determination. The team looked at soccer hooliganism, microbreweries, film, the Scientific Method, paid vacations, fidget spinners, internet memes, museums, windsurfing, gaming, the internal combustion engine, deep-fried Twinkies, modern art, universal literacy, skiing, CPR, solar power, classical music, and offset printing, among others, and, through painstaking research, demonstrated how each of those and other elements of Western culture originated in, or were subject to formative influence by, white supremacism.
"Some of these cultural elements' white supremacist origins are more obvious," acknowledged Libberay-Shunthi Olojee, a student who participated in drafting the article. "But through the rigor we always bring to bear in the social sciences, we concluded that, for example, since classical music includes Wagner, and Wagner explored mythic themes that Hitler later admired, Wagner must have agreed with Hitler's racial theories, and by extension, so did every other Western composer, since they never called Wagner out on that. And of course it must have found expression in their music, which is full of martial terms such as 'forte,' aggressively phallic note shapes, and a segregated system for assigning keys that sorted compositions into such hierarchical categories as 'major' and 'minor.'"
"Foods are another arena in which white supremacism often surfaces," added Ura Biggit, one of the authors, currently pursuing her master's degree in Women's Studies. "I don't mean appropriated foods, which reflect a different aspect of white supremacism, but the dishes that emerged from within Western culture, such as fish-and-chips. Did you know that fish-and-chips uses light, or 'white' fish, and 'white' potatoes? I need not tell you what kind of less-than-subtle messages those foodstuffs have been carrying, and the groups who ate them would never havetold you what they're really about."
Please support our work through Patreon.