The project could have launched earlier but for  the culture of underachievement that already pervades the organization.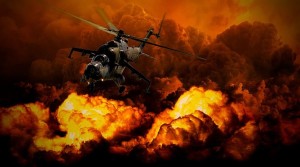 Jerusalem, January 23 – In its effort to integrate new technologies and methods into its practices, the Postal Authority has been examining the Syrian regime tactic of dropping canisters of flaming petroleum our of helicopters as a possible alternative to the authority's current system of failing to not deliver 100% of the letters and packages it handles, a representative stated today.
Postal Authority spokesman Chavi Otnefetz hosted a PR tour for reporters at the agency's Jerusalem processing facility this afternoon in the industrial zone of the city's Givat Shaul neighborhood, during which she laid out the Authority's study of emerging technologies and its plans to conduct a pilot program of the barrel bomb method as early as this spring.
"We're excited to up our game in this arena," gushed Ms. Otnefetz. "Until now our mechanisms have left local delivery personnel with extensive autonomy in deciding how much mail to destroy or misplace, how often, and by what method. While our staff has given us positive feedback on the independence they have so far enjoyed, we will soon launch a pilot project in peripheral areas to help us evaluate a more centralized system for losing or destroying pieces of mail on their way to the addressee."
"For several years already, our Research and Development department has been eyeing the Assad regime's barrel bomb tactics," she continued. "Early on, they identified the potential that practice carries for our operations, and we have spent much of the time since then constructing a logistical and training apparatus for adapting the barrel bomb method to our milieu."
The project could have launched earlier, explained an Authority official, but for two important factors: reluctance on the part of security and defense officials to allocate the necessary equipment, and the culture of underachievement that already pervades the organization. "The teenage after-school or summertime workers charged with throwing letters into the wrong destination pouches proved incapable of handling the development of a testing protocol," lamented the official, who had provided his name on a piece of paper in an envelope that disappeared on its way to reporters. "They have been briefed and trained enough to make sure an urgent notice addressed to Beit Shean went to Beersheva instead, but that's hardly sufficient for coming up with a way to determine whether enough letters have been destroyed in an explosion."
Additional problems arose, recalled the official, in communication among the various government organs negotiating the pilot program, as no one in the Postal Authority had familiarity with any technology more advanced than the fax machine.
Please support our work through Patreon.