Industry insiders describe the features as the latest in a long line of adaptations for the Haredi real estate market.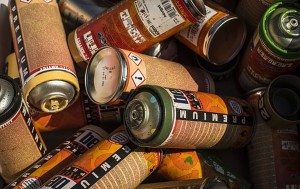 Bnei Brak, October 25 – Real Estate developers and architects targeting the Haredi market have identified a trend they hope will lead to the construction and sale of more appealing residential properties, in the form of housing that comes already equipped with an expanse of external wall that can be adorned with graffiti slogans of the resident's choice.
Noting studies that approximately 90% of the graffiti in Haredi neighborhoods contains overt political messages, designers intend to capitalize on the popularity of the phenomenon by including in their plans elements to suit the properties to a Haredi lifestyle: in this case, a section of the outside of the home faced with materials conducive to the application of spray paint.
Industry insiders describe the features as the latest in a long line of adaptations for the Haredi real estate market. "Beginning the 1990's, it became more or less standard for new Haredi apartment complexes to include balconies offset from one another for Sukkot," noted architect Rhee Bar, "to allow for at least a portion of each Sukkah to remain directly under the sky. Designs for Haredim already assume larger families, so more rooms, and separate meat and dairy sinks, niches for meat and dairy ovens, and the like. But we're in marketing as much as in architecture, so we're always looking for what might provide a marketing edge. The graffiti wall could be it."
Already, plans have been submitted to the Bnei Brak, Kiryat Sefer, and Jerusalem municipalities that feature apartments with smooth, light-colored stone panels on the outside, facing the street, where graffiti can be applied most effectively. "It comes pre-engraved with the standard abbreviation for 'with Heaven's help' etched in the upper right corner," boasted Bar. "We of course anticipate that the vast majority of graffiti appearing on these sections of wall will feature some variation on 'Vote Shas' or 'Anyone who participates in the army of the wicked Zionists has no portion in the Coming World,' but it's also perfectly suitable for 'Na Nach Nach Nachman MeUman' and 'Chabad is a lie' slogans as well. That's the beauty of a simple idea – it lends itself to flexibility."
Some designers plan to extend the concept to public and commercial buildings. "We're looking at a graffiti wall proposal for a new municipal facility in Beitar Illit," revealed architect Shibbolet Sisma. "But the idea works for infrastructure as small as bus stop shelters and street signs, so expect to see more of that."
Haredim in the market for new homes have reserved judgment. "Can someone explain to me what's different?" they asked.
Please support our work through Patreon.