At parties and other social gatherings, Oslo now avoids eye contact and interaction, preferring not to attend at all if possible.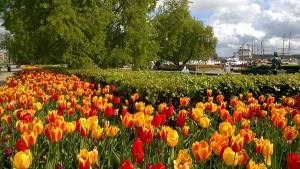 Oslo, October 23 – The Norwegian capital has grown to dislike its association with a much-hyped 1993 accord between Israel and the Palestine Liberation Organization that has become one of history's great disappointments, friends of the city reported today.
Oslo, which gave its moniker in popular parlance to the eponymous set of agreements that granted Palestinians limited autonomy in certain areas previously controlled by Israel, now shies away from contexts in which that connection is invoked, and hopes people will stop mentioning it, they have noticed.
"She used to take great pride in it," recalled Helsinki. "Those were heady days, when people talked of a 'New Middle East' and the whole region's problems were going to be solved as the ostensible linchpin of the Arab-Israeli conflict was removed. Well, it didn't quite work out that way, as we all know. Somehow Yasser Arafat never got around to conditioning his people for genuine peace, and never went about taking actual measures to end the conflict. The fact that he shared a Nobel Peace Prize for his part makes it all the more disgraceful in retrospect."
"I can't say I envy her," agreed Copenhagen. "What used to look so promising has turned out to be an embarrassment, any way you slice it. Some of us blame Israel, some of us blame the Palestinians, and some of us note there's plenty of blame to go around, but whoever's at fault, that doesn't change the fact that a final status agreement is no closer now than it was twenty-four years ago when this all began, with Palestinian attempts at bloodshed occurring almost daily. The name 'Oslo' will always be associated with this fiasco."
At parties and other social gatherings, Oslo now avoids eye contact and interaction, preferring not to attend at all if possible, out of fear the subject of Israeli-Palestinian relations might surface. Her neighbors in Europe continue to give the topic priority in their conversations, which only makes the dynamic more awkward, notes Stockholm.
"I feel for her, I really do," she lamented in an undertone. "I've had my own problematic associations to work out, such as that syndrome. It takes time. Of course my negative association is based on something comparatively minor. Oslo is now forever linked in everyone's lexicon with a spectacularly stupid attempt to bring peace by caving to terrorist demands."
"Hey but at least neither of us is Munich," she added. "I don't think we'll see Munich ever again. Years after becoming synonymous with appeasement of Hitler, she finally musters the courage to host an Olympics, and boom. Terrorist massacre of Jewish athletes. Of all the rotten luck."
Please support our work through Patreon.