Figures show not a single death from a construction site accident among income earners of twenty-five-thousand shekels per month and above.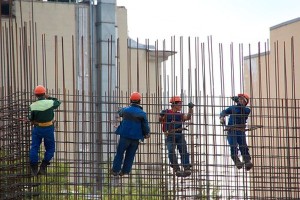 Jerusalem, January 4 – An investigative committee formed to study socioeconomic gaps and to formulate policies to address them has issued a scathing report on fatal accidents that occur at construction sites, and noted that wealthier slices of Israeli society are disproportionately absent from the grim statistics.
The Inquiry into Morbidity at Building Erection and Construction in Israel, Level: Economic (IMBECILE) presented its initial findings at a press conference in the Knesset Thursday morning. Committee Chairwoman Doctor Atzirut Sherlock lambasted successive governments for its failure to ensure greater representation of all socioeconomic classes in the fatalities associated with the industry.
"Our figures show not a single death from a construction site accident among income earners of twenty-five-thousand shekels per month and above," she indicated. "Whereas those earning less than that, most of them much less, represent one hundred percent of those preventable deaths. Moreover, the disparity in the death statistics from construction accidents has persisted for at least four decades, at least since such figures have been collected by various government ministries."
Dr. Sherlock demanded that the government take concrete steps to bring greater social equality to the construction industry. "When the final report comes out in two months, in will include several policy recommendations for addressing this gap in fatalities," she remarked. "But our members have already been in contact with legislators and members of the current government so that this urgent matter need no wait until the official release of our report."
Data sheets distributed to reporters at Dr. Sherlock's press conference included preliminary proposals to close the gap. Among them: modified safety regulations requiring at least one wealthy Israeli on site at all times in case a fatality occurs, so that the wealthy person can be killed on the spot when a fatal accident involving a non-upper-class worker occurs; a ban on all construction projects, which the commission noted has already been implemented for certain periods in Judea and Samaria, episodes that can be examined for relevance to the dilemma in question; a mandated wage increase among construction workers to make them wealthy, a proposal that the commission observes will likely have the same effect as the previous idea; a dedicated task force to assassinate wealthy people each time a fatal construction site accident is reported, a proposal that the commission notes does not technically address the statistical gap, in that the deaths of the wealthy by such means would not appear in construction site fatality figures unless the assassinations take place by means of cinder blocks falling on the victims' heads, a setup the commission notes may prove impracticable.
Please support our work through Patreon.