They threatened anyone who gives the coins with violence, excommunication, and a boycott by all other families of their children in marriage.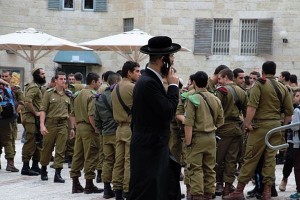 Wilderness of Sinai, February 13 – Ultra-orthodox members of the Israelite people withheld their half-shekel coins this week, contending that such a census to count the number of military-age males in the nation violates Halachic rulings forbidding enlistment in the army.
Moses conveyed the divine commandment earlier this week to have all males above the age of twenty submit a half-shekel-weight silver coin, both to raise funds toward the construction and operations of the Tabernacle and to arrive at a figure on which to base the formation of a force to conquer the land Promised by the Lord. Haredi Israelites, however, cited responsa in Jewish law of such authorities as the Hazon Ish, the Satmar Rebbe, and others to the effect that serving in the army violates fundamental principles of Judaism and is tantamount to rejecting God.
"All the Gedolim agree it is forbidden on pain of death to join the army," declared Shamua ben-Zakkur Feinstein, referring to prominent Torah sages whose legitimacy among Haredim is contingent on anti-Zionist credentials. "Anyone who even sets foot in a recruitment office goes beyond the pale, let alone actively contributes. It is against authentic Torah tradition to participate in the blasphemous Zionist project of asserting political sovereignty in the Land of Israel before the coming of the Messiah."
Leaders in several Haredi factions have announced a protest in the midst of the camp tomorrow to block access to the half-shekel collection facility, and threatened anyone who gives the coins with violence, excommunication, and a boycott by all other families of their children in marriage.
"We refuse to participate in this cursed heresy that will only draw our sons and daughters away from a Torah-true lifestyle," pronounced Shafat ben-Hori Teitelbaum. "We are to wait patiently in exile, remaining loyal to our tradition, until we are redeemed by miraculous means, and not to show our impatience, heaven forfend, with the divine plan by taking matters into our hands."
Members of the Neturei Karta group have already sent emissaries to the various peoples now in possession of the Promised Land, in an effort to forge alliances against what they call Israelite "Zionist" designs on taking the land of Canaan by force. Reports have emerged of Neturei Karta representatives among the Perizite, Hivvite, Hittite, Emorite, and Jebusite leadership, with the envoys urging those kingdoms to disregard Moses, Joshua, and others claiming the mantle of authentic Hebrew practice. Envoys were also sent to the Girgashites, but that nation appears to have fled Canaan rather than face Israel.
Please support our work through Patreon.