By Santa Claus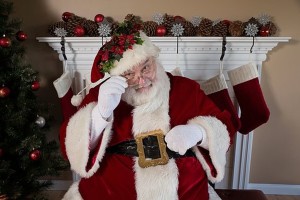 North Pole, November 19 – Just before I get absorbed in the busiest part of our annual operation, I think it important to clear up a common misconception: the categorization of people into worthy or unworthy of receiving their desired gifts for Christmas occurs not at my headquarters, but has for decades been outsourced to Israeli intelligence.
That has not always been the case. For a time we had the KGB and Stasi covering various aspects of the surveillance, but when the Communist regimes of Europe collapsed in the late eighties and early nineties, those organizations had their hands full with more pressing matters. We held a quick round of proposal solicitations, and the Mossad submitted the most attractive package.
So far we've seen nothing but excellence in their work. Even when they clearly faced competing considerations, we never felt we were getting short shrift. Engineering 9/11 had to have taken years of preparation, but even an operation of that size and intensity never compromised the level of service they provided to us. On that point, by the way, while the NSA boasts a much more robust budget and arsenal of equipment, they didn't see 9/11 coming. Oops. It was a little embarrassing when we pointed that out at their sales presentation. This decision was a no-brainer.
Some difficulties do come up on occasion. Every now and then we differ on the definition of "naughty," for example: we tend to emphasize interpersonal conduct and let ideology slide, whereas they place greater emphasis on expressions of harmful political attitudes. We always resolve such disputes without rancor, because I know what those bastards are capable of doing to me if I get on their naughty list. Most of the times I have been able to sway them involve copious evidence that the offending person is more idiotic than malicious. That would be most of them, come to think of it.
This arrangement has proved fruitful enough, and the ties between our organizations have grown robust enough, that we are considering an expansion of collaborative efforts beyond mere intelligence-gathering. Israel's drone capabilities long ago surpassed those of my reindeer. Sentiment accounts for most of the reasons I have yet to switch to newer technologies – even after that close call with the air defense systems over Syria in 2015. Next year we intend to launch a pilot program for delivery, not just for surveillance. Some folks high up on the naughty list will get a visit from a well-armed drone, if you catch my drift.
Peace on Earth and goodwill toward men, etc. etc.
Please support our work through Patreon.