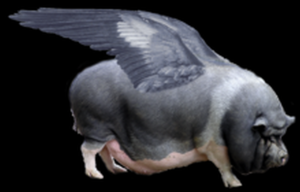 Kibbutz Lahav, November 25 – Israel's efforts to drive Palestinian farmers off their lands received a boost this week with the announcement that the army would partner with local pig breeders to develop flying pigs for release in Palestinian agricultural areas.
Palestinians have long accused Israel of releasing wild boars to wreak havoc with Palestinian farms. Palestinian President Mahmoud Abbas repeated the charge again several days ago, but as in the past, few international bodies have given the matter much attention. Until now the boar-release program has apparently been a private initiative, but to capitalize on the apparent apathy of the international community, the Israeli military entered into an arrangement with the country's only pig-farming enterprise to launch a breeding program aimed at producing winged, flying swine capable of mobility and destruction that far outstrips the achievements of the current available animals.
Kibbutz Lahav's swine program has sparked controversy since its inception, given the Jewish dietary ban on pork and the cultural aversion to the animal. However, the army, which officially maintains Jewish dietary laws in its facilities, nevertheless sought out the program heads to develop this new kind of bio-weapon, which could be deployed much more flexibly to destroy Palestinian farms and property without directly implicating Jewish settlers.
An industry analyst told reporters he expected the first prototypes to enter service no earlier than the end of the decade. "There are important genetic and physiological hurdles to overcome before actual self-propelled airborne swine can be bred," said Wilbur Zuckerman, who teaches animal husbandry at the University of Iowa. "Flying pigs would be extremely difficult to raise and care for, and there wouldn't be enough demand from the consumer to justify raising them in large numbers, which is why no one has tried this sort of program before. But a military application has different rules, and the main constraint in this case would be the porcine gestation period of about seventeen weeks."
There will also be structural and skeletal issues. "The breeders will need to engineer an additional pair of limbs to serve as the wings," notes military aviation consultant Hazira Schweinestall. "The initial genetic modifications could certainly be performed in the lab, but each run would take weeks beyond the birth of each specimen before the breeders know whether the pigs could achieve flight."
A spokesman for the IDF declined to divulge the details of the breeding program. "We'll be intentionally harming Palestinian agriculture when pigs fly," he said.