Kerry declined to specify what religious authority issued such a fatwa.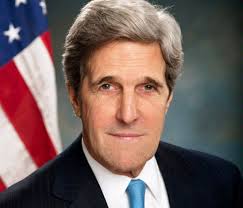 Washington, November 16 – Former Secretary of State John Kerry has continued his efforts to spread calm in a world troubled by the possibility of escalated sectarian conflict, reassuring Europe's pre-WWII Jewish population that a religious ruling exists against attempts to annihilate any specific ethnic, religious, or racial group.
The Secretary spoke at an event to buttress the Iran nuclear deal, at which he repeated his claim that the deal made the world safer and implied that those who opposed the deal sought to spark war.
"My friends in the European establishment assure me there is a fatwa that specifically prohibits genocide," he asserted. "It is not in the political or spiritual interest of the powers in Europe to pursue any such policy, and it undermines good faith dealings with them to constantly harp on this point."
Kerry declined to specify what religious authority informed him of such a fatwa, or what spiritual authority issued it. "You have to trust people sometimes," he explained. "That's how deals are made, relationships develop."
European leaders greeted Kerry's words with warmth. "We are glad Mr. Kerry made this pronouncement," read a statement by German Minister of Foreign Affairs Joachim von Ribbentrop. "Too much militant rhetoric has been poisoning the air of late, and it is important for a voice of reason, of calm, to prevail."
"Yes, yes, what Kerry said, whatever it takes to get people to calm down about this," concurred Mufti of Jerusalem Haj Amin al-Husseini, in the Balkans for a visit with like-minded Muslims in the area. "When Al-Aqsa is threatened by Jews, it is important to say these things."
British Prime Minister Neville Chamberlain added that Kerry's efforts to bring home a piece of paper that could be presented as resolving the core issues and ensuring continued peace deserve to be honored, not challenged. "Diplomacy is always better than war," he insisted. "By confronting an expansionist regime bent on regional domination, a modern superpower risks having to back up its ultimatums with force of arms, and we all know how fraught such a prospect can be. No, better to grant the regime's demands and thus remove what grievances it might have, because when you're dealing with reasonable people, everyone knows once you give them what they're asking for they remain satisfied and don't bother you ever again. The Jews of Europe really should know better than to make trouble about this. What do they want, another war?"
Please support our work through Patreon.