"We cannot risk people being exposed to those vile creatures."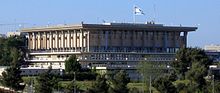 Jerusalem, June 28 – Health inspectors visiting Israel's legislative compound have closed the site's dining facility after discovering the space teeming with politicans. The room is expected to remain closed for two days while fumigation takes place.
A routine inspection of the Knesset by Jerusalem District health workers and a detachment from the Ministry of Environmental Protection found what they called an "unacceptably high concentration" of the dangerous vermin in the cafeteria, and immediately ordered the room evacuated and sealed. The team summoned exterminators to pump chemicals into the cafeteria, and will allow reopening of its windows and doors only on Friday morning. In addition, posters now hang on various walls of the Knesset compound warning staff and visitors to report further sightings of the creatures.
Dever Vaherev, a spokesman for the group, told reporters that access to the cafeteria would be permitted only once an inspection on Friday morning determines no politicians remain in the area. "We understand that the cafeteria is an essential facility in this compound, and that in addition to simply eating, many people use the space as a convenient venue for meetings, but the presence of politicians is a dangerous thing," he explained. "We cannot risk people being exposed to those vile creatures so readily. I'm sorry, but everyone will have to bring a bag lunch at least until Friday."
Knesset archivist Sheretz Remmess recalled a similar incident in the summer of 2000. "I remember being hustled out of the room," he recounted. "It came as a rude shock, because I was in the middle of a surprisingly good serving of fried fish, as far as Knesset cafeteria standards go. Then I saw it, and I knew I had to run. I think it was an Ehud Olmert, but others who were there that day swear they saw a Binyamin Ben-Eliezer and an Eli Yishai. Maybe they were right, too. I booked, so to speak. Scary."
Other areas of the Knesset compound will remain accessible, noted Mr. Vaherev. "We have some reports of sightings around the legislator offices, but the concentration of politicians there is not as high as in the cafeteria, or specifically in the office of the Finance Committee Chairman, where we have had to spray before. I do have to say that whereas one might expect a need to fumigate the plenum chamber, in fact it is a rare occurrence for a significant number of politicians to be in there at the same time."
Please support our work through Patreon.