"Oh, no, I haven't made a single anti-Israel or anti-Jew Instagram post," fretted McKayla Murphy, 21.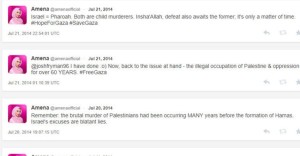 Paris, January 23 – Women aspiring to land prominent roles in representing manufacturers of beauty products rushed to update their resumés this week after reports that two influential firms in the industry had hired antisemitic models as their public faces.
A flurry of activity occurred in the French capital, in Milan, and in New York, where fashion and cosmetics design and marketing personnel seek out fresh young talent, following exposure of social media activity by Amani Al-Khatahtbeh of Revlon and Amena Khan of L'Oreal that revealed antisemitic bias. In the sensitive realm of public relations, reason aspiring models, these major players in the industry could not have failed to check the backgrounds and reputations of candidates, and therefore could only have hired them or named them as awardees having already ascertained that the two harbor hatred for Jews and Jewish sovereignty.
"Clearly it's an asset to express dislike for Jews in this industry, so I'd better start showcasing it," resolved Amy Thorpe, 20, of Lansing, Michigan. "The difference in beauty and talent between the women who get selected and the ones who didn't quite make it is so narrow, so subtle, that every little advantage has to be brought to bear. I can only hope that my antisemitism puts me over the top the way Ms. Khan's and Ms. Al-Khatahtbeh's did for them."
"Oh, no, I haven't made a single anti-Israel or anti-Jew Instagram post," fretted McKayla Murphy, 21, of Coral Gables, Florida. "I made sure to put 'anti-Israel protesting' in the 'interests' section of my CV, but I'm sure everyone's going to do that now. I need to find a way to make my existing portfolio reflect the antisemitism the executives are clearly looking for. I'm so stressed right now, I can't even tell you."
Some young models expressed confidence that they have already established that element of their reputations. "Oh, I've got that part down," boasted Manal Jabari, 22, of Austin, Texas. "I even had a whole bunch of my tweets cataloged by those Canary Mission people. This one's in the bag. I do hope L'Oreal, Revlon, Helena Rubenstein, Estée Lauder, Unilever, and Avon are paying attention."
"I'm particularly proud of a tweet I posted last year calling Israeli soldiers cannibals and all of Jewish tradition false," she added. "That one by alone should be worth a Changemaker Award, if not a contract to have my face gracing billboards from Lisbon to Tokyo."
Please support our work through Patreon.