Reality has been imitating satire for quite some time, especially at the UN.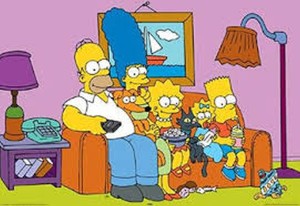 Los Angeles, January 9 – Officials at Israel's elite secret intelligence service have engaged writers from the world of entertainment with a knack for foreseeing important developments years in advance, as part of an effort to identify threats and opportunities before others do.
Most of the members of the creative team behind the 28-year-running animated sitcom The Simpsons have agreed to contribute to the Mossad's new project, which an official from the organization called Operation Mossad Clairvoyance-Buttressing Activities In Nascence, or Operation MCBAIN for short.
"On more than a dozen occasions the Simpsons team has demonstrated its ability to predict events far in advance of many so-called experts or analysts," observed the anonymous official. "Until now their uncanny skill has been something of a joking matter in the intelligence community, but Israel's security establishment has always prided itself on thinking outside the idiot box. We thought, essentially, 'Why not?' And this arrangement was born."
A significant number of the writers behind The Simpsons are Jewish or have some Jewish connection, and several have expressed open sympathy for Israel. "It was set up in under two days," recalled the official.
Events predicted by The Simpsons up to twenty years in advance include a Trump presidency, the identity of a Nobel Prize winner, Greece's debt default to the International Monetary Fund, NSA surveillance of US citizens, certain aspects of mobile communications technology, and the takeover of the Fox entertainment corporation by rival giant Disney.
"We're excited to put our talents to use beyond social commentary and entertainment," pronounced Matt Groening, creator of The Simpsons and head of the team. "The predictive power of our work will finally gain some appreciation and application, and it's quite gratifying for my colleagues and me to see our accomplishments bear fruit in the so-called 'real world' outside satire."
Groening acknowledged that some of the predictive moments in the show and a 2007 feature-length movie did not originate in any attempt to forecast. "In many cases we simply went with what would seem most absurd or poetically illustrative of contemporary trends," he explained. "But then, reality has been imitating satire for quite some time, especially at the UN, and it appears at least one intelligence agency is now showing some actual intelligence by harnessing the phenomenon."
If successful, the MCBAIN pilot project may lead to recruitment of satirists from other segments of the industry. Following the announcement of the arrangement with the staff of The Simpsons, reports emerged of hasty resume-editing by writers at tongue-in-cheek outfits such The Onion, PreOccupied Territory, The Daily Freier, and The New York Times.
Please support our work through Patreon.