Herzog was heard to mumble, "Et tu, Buji?"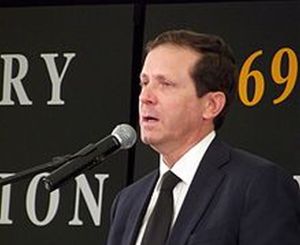 Tel Aviv, March 15 – Labor Party leader Isaac Herzog returned to his beloved city of Tel Aviv today amid throngs of supporters, and there encountered an oracle who greeted him with dire warnings of whatever.
Herzog, who faces numerous challengers in upcoming party primaries, was forced to pause in his journey back to his apartment, by a man cautioning him that the fateful date portends events of great insignificance.
"Beware the… yeah, whatever," the oracle was heard to pronounce.
"Meh," he repeated, mustering all the pathos that could be injected into the word.
Herzog appeared to disregard the warning, and proceeded apace to his residence, where the Labor chief held consultations with political allies and staff regarding legislative matters and the upcoming internal party elections in July. Despite his incumbent status and the prominence afforded him by virtue of his Opposition Leader position, the charisma-challenged Herzog faces an uphill battle to convince Labor's electorate that he can unseat Prime Minister Binyamin Netanyahu. Herzog's entourage also showed no reaction to the soothsayer's lackluster omen.
"Hello, Portia- I mean Michal," Herzog greeted his wife as he entered. "How was your day? Car get stoned?" he added, hoping for some sort of compelling drama to put him in the news. "Stabbing attempts? Just out of curiosity, you know?"
Shaking his head in disappointment at her response, Herzog was heard to mumble, "Et tu, Buji?" and sat down in his living room with a handful of advisers and aides. "I think we need to generate some buzz, some attention, so that it looks like I'm under unjustified attack – the sympathy vote," he told those assembled. There was a a non-enthused murmur of acknowledgement.
"I've been looking at the poll numbers, and it doesn't seem encouraging," he explained. "We need some drama, perhaps someone credible to issue some dire warnings about what happens unless I'm the Labor leader. A doomsday date, if you will. Any ideas on that front?"
An aide suggested that the stratagem might work better if the candidate possessed a certain gravitas, and a popularity reminiscent of a conquering Roman hero returning from the battlefield. "Well, I've hired a voice actor to dub my whiny nasality," Herzog offered. "Is that what you mean by gravitas? Also, what kind of conquering hero? I'm not really comfortable with convincing victories. We need to offer the electorate an alternative to victories. I think they're looking for something different."
Please support our work through Patreon.