The Middle East isn't used to competent administration; it would be irresponsible to introduce such a thing.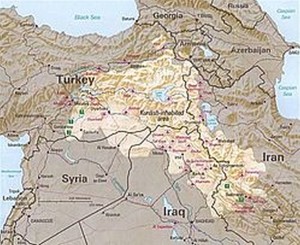 Mosul, September 24 – Analysts from a cadre of nations and entities monitoring the fluid, chaotic situation in the Middle East have concluded that establishing an independent, coherent state for Kurds where they already enjoy de facto autonomy and have demonstrated the capacity for proper self-governance and administration would introduce a destabilizing factor in the region, whereas a Palestinian state run by clannish, venal despots obsessed with suppressing dissent could only serve as a stabilizing factor.
The United States, Turkey, Iran, Iraq, the United Nations, Syria, and myriad others have registered their disfavor with the notion of sovereignty for the Kurds, a distinct ethnic group that has suffered under myriad outside regimes and seeks independence. At the same time, the same bodies and countries have worked for the founding of a sovereign state for Palestinians, a nation minted in the 1960's who in more than two decades of self-rule have made little or no progress toward the establishment of good governance, democratic institutions, civil society, transparency, or other factors that would in some way demonstrate the wisdom of continuing down such a path. In explaining the divergent attitudes, experts note that the competent administration by the Kurds would undermine an emerging order in the region, whereas a corrupt, terrorism-promoting Palestinian state would reinforce it.
In explaining the difference, analysts point to several key factors. "First you have to understand that the Middle East isn't used to competent administration," insisted an academic who appeared to be trying hard not to resemble Iranian Minister of Foreign Affairs Javad Zarif with Groucho glasses, nose, and mustache. "It would be irresponsible to introduce such a thing. Just look at the havoc the Zionists have wrought by bringing in even a hint of real governance. The peoples of this region continue to resist such foreign colonial ideas."
"Corruption, genocide, domination of other peoples, violent repression of any sign of an independence movement – those are values at home in this part of the world," argued a group of impartial UN delegates from nations dependent on Iraqi oil, threatened by Turkey, or with a history of violent treatment of Kurds. "You can't reward the people who try to assert independence – that would encourage others, which would be a recipe for disaster. Unless you're talking about Palestinians. For them it's ok. No, no questions, I'm afraid. You're not allowed to challenge this bit of international dogma. If you do, you run the risk of petrodollar-funded institutions suddenly losing their backers."
Please support our work through Patreon.