Initial popularity has proved promising, as most players do not even ask for prizes or prize tickets.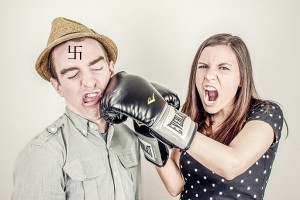 Jackson, New Jersey, September 6 – One of the largest theme park operators in the world has installed a new feature in its gaming arcades and contest booths in which contestants don a boxing glove and punch a Nazi in the mouth.
Punch A Nazi was installed over the weekend at Six Flags Great Adventure, and company executives intend to open similar attractions in other Six Flags parks through the year, in addition to licensing the game for use by other theme park operators. Initial popularity has proved promising, they reported Wednesday, with most players not even asking for prizes or prize tickets.
"We have folks lined up to play, and sometimes one or two ask what you have to do to win a prize, but most just pay money, punch the Nazi, and leave – or get back in line to do it again," noted park staff member Anne Tiffa. "Technically, you're supposed to punch the Nazi in the mouth hard enough for a bell to ring, but nobody seems to care."
The attraction has proved so popular, in fact, that park management installed all seven units in locations around the facility, instead of keeping two in storage as backup in case one of the others malfunctioned. Visitors spoke positively of playing the game.
"You don't get to punch Nazis around here very much," lamented Lynne de Sarsur of Brooklyn. "I'm glad someone is doing something about that."
The seven Nazis for punching include famous figures such as Hernmann Göring, Adolph Hitler, Heinrich Himmler, and Rudolph Höss, along with less-well-known Nazis such as Reynard Heidrich, Martin Bormann, and Richard Spencer. Park personnel report that the last, despite Spencer's relative impotence in the annals of Nazism, and in general, attracts by far the longest lines.
Six Flags has shown astuteness before in the same realm: after the Charlottesville, Virginia episode in which a white supremacist drove a car into anti-fascist protesters, the company announced it will no longer fly the Confederate flag on any of its properties. Following a 2015 mass shooting in Charleston, South Carolina, in which a white supremacist killed nine people, the company decided not to fly the familiar Confederate battle flag. The new attractions, however, mark a transition from acting to prevent public relations problems to monitoring current political trends for marketing purposes.
An officer of Six Flags told reporters no such attraction would be opened featuring famous Communist dictators such as Stalin, Pol Pot, and Mao, as the public would consider such games incitement to violence against socialists.
Please support our work through Patreon.