"Of course there will be those who try to outdo what came before."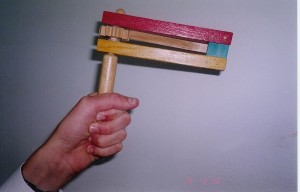 New York, March 5 – Police believe the recent spate of bomb threats against Jewish places of worship was a misunderstanding, a department spokesman announced today, with the explosive devices intended not to wreak mayhem, but to produce noise in response to the mention of the villain'a name during the reading of the Scroll of Esther this coming weekend.
NYPD Community Relations Supervisor Daniella Ortiz called a press conference this morning to advise the public that the incident, in which multiple synagogues received warnings of bombs on the premises, will no longer be classified as a hate crime. Instead, she informed the attendees, police representatives will visit area synagogues in advance of the Purim holiday to engage communities in discussion of proper safety while using devices that make noise.
For several centuries, the reading of the Scroll – Megilah – of Esther on Purim has featured the custom of making noise after every mention of Haman, the highest-ranking official in the Perso-Median Empire of the time who convinced the king to sanction a genocide of the Jews. While primarily the children's department, the noise-making is but a more recent manifestation of fulfilling the Biblical commandment to wipe out the memory of Amalek – the people to which Haman belonged and the existential and ideological nemesis of Israel.
Ortiz explained that Juan Thompson, the suspect in the case, was attempting to help celebrate Purim. "People are tired of the same-old, same-old," she reasoned. "For some folks, doing exactly what you did last year, or the way it's always been done, isn't compelling. So of course there will be those who try to outdo what came before. Can you imagine the excitement of an explosion going off in the synagogue instead of those silly rattle-things? Groggers? Is that what they're called? You hear what I'm saying."
Jewish community leaders expressed relief. "It makes more sense this way, come to think of it," allowed Rabbi Jill Stein of Temple What-Tha-El on Manhattan's Upper East Side, which received one of the bomb reports. "I mean, normally, the only opportunities for our members to engage in public one-upmanship in the context of Judaism are who has more or bigger plaques on the wall of the building, and who can throw the most ostentatious bar mitzva celebration. Here, somebody finally found a way to bring that drive to outdo everyone else to Purim."
"It's too bad our temple threw Megilah-reading out the window ages ago, with other too-Jewish things," she added. "A story of Jews fighting a war against anti-Semites? We can't read that here. It's so backward – what would the goyim think?"
Please support our work through Patreon.