"We've seen more and more of these patients recently," observed Gabriel.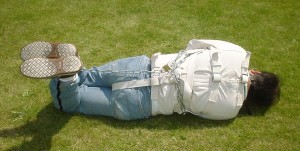 Paradise, September 6 – The Palestinian attacker who shot and killed three Israelis and injured a fourth this morning at a community northwest of Jerusalem, and was fatally shot in the process, has been admitted to the supernal psychiatric section and remains under quarantine, an angelic spokesman told reporters this afternoon.
Archangel Gabriel announced at a noontime Pearly Gates press conference that Nimer Mahmoud Ahmed Aljamal, 37, of the village of Beit Surik, was bring kept under observation in isolation until a more permanent disposition can be found appropriate, following reports that the father of four had physically abused his wife, causing her to flee to Jordan, and displayed other signs of emotional and psychological instability.
"We've seen more and more of these patients recently," observed Gabriel. "Unfortunately, instead of seeking treatment for, or simply confronting, their problems, Palestinians in emotional distress of various sorts have taken to getting themselves killed in attempts to kill Jews, thereby ending their earthly misery and guaranteeing generous lifetime pensions for the family they leave behind. While Allah and the Heavenly host acknowledge the appeal of such a course of action, we nevertheless remain concerned that it betrays an attitude and psychological state ill-suited to eternal bliss, and are therefore keeping Mr. Aljamal under observation, and will determine at a later date whether he can be safely released to inhabit the afterlife."
Other heavenly sources commented on the continuing trend. "This began with some of the attackers in the stabbing Intifada that began about two years ago," noted Archangel Michael. "Of the two dozen or so 'martyrs' who come through here after attacking Israelis, we haven't been able to release any into the general population of Heaven. They're just not stable. For their safety and that of our other residents, we must continue to exercise caution." Michael assured journalists that the comfort of the psychiatric residents was unassailable, as they are kept under sedation much of the time.
Regarding the specific case of Mr. Aljamal, the archangel declared it too early to tell whether discharge would take place anytime soon. "These things take time," he cautioned. "We have plenty of that, of course, so there's no need to rush things. When the patient displays the appropriate indications of psychological and emotional states suited to the afterlife, we will be sure to assign him to the right place."
As he pronounced the final phrase, the archangel's eyes flashed toward a trap door from which the smell of smoke and brimstone could be sensed.
Please support our work through Patreon.