"Indeed, we see eye to eye with the Palestinian leadership on many important issues," declared Grand Moff Tarkin.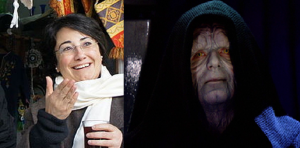 Umm el-Fahm, May 4 – MK Haneen Zoabi issued a statement of appreciation today for the diplomatic efforts of Galactic Emperor Palpatine, who instructed the Imperial ambassador to the UN's cultural arm to vote in favor of yesterday's resolution denying Jewish sovereignty over, and historical connection to, Jerusalem.
In her statement, the Balad Party lawmaker expressed gratitude for the staunch support the emperor has shown for the Palestinian cause over the years, and for many shared elements of ideology that Balad and the Galactic Empire have, as manifest in the UNESCO resolution that denied Jewish Jerusalem as a political and historical reality.
"His Highness has always shown sympathy for the plight of the Palestinian people," read Zoabi's statement. "His approach to governance and politics dovetails with the Palestinian worldview, and it was only natural for us to feel an affinity for each other's accomplishments and methods. On behalf of the entire Palestinian people I wish to give voice to our desire that the emperor make common cause with us in our righteous quest to crush the Zionist rebel scum invaders whose values we both oppose."
Zoabi highlighted several points the two political philosophies have in common. "As His Highness appreciates the need to quell dissent through exaggerated violence, we Palestinians have come to appreciate that only force works to defeat the enemy. Similarly, as the emperor and his official Darth Vader have repeatedly demonstrated, reneging on agreements, or simply violating them, represents an approach to negotiation and governance that we Palestinians have striven to emulate at every level."
A representative of the Galactic Empire welcomed what he called Zoabi's kind words. "Indeed, we see eye to eye with the Palestinian leadership on many important issues," declared Grand Moff Tarkin. "I would like to add to her description of shared values a cynical use of harm to noncombatants to further military and political aims, and a willingness to invest disproportionate resources in implements of destruction to the exclusion of actually caring for the people being governed."
"Further," he continued, "we, too, subordinate every aspect of our governance to the conflict with the enemy, defining every action in terms of its impact on, and relationship to, that conflict. The emperor foresees fruitful cooperation between our forces and our natural allies the Palestinians."
Tarkin declined to elaborate on the nature of any such cooperation, but made oblique references to a "big and powerful demonstration" of the Galactic Empire's might in the near future.
Please support our work through Patreon.