"In exchange for a small fee, I schmooze with some organizers and police, and there you go."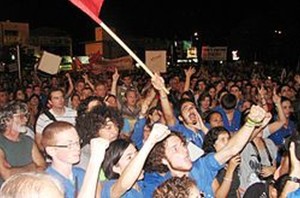 Tel Aviv, December 25 – Saturday night's demonstration on Rothschild Boulevard against graft, cronyism, and other breaches of public trust in government marked the latest in a series of protests against the status quo, including both a controversial escalation of rhetoric against Prime Minister Binyamin Netanyahu and the arrival of a local figure who can help attendees best express their displeasure with corruption and antidemocratic legislation by collecting money to secure the finest location within the demonstration.
Avi, an entrepreneur who declined to give his last name, could be seen at the event negotiating on behalf of his newfound clients for places to stand where cameras, microphones, and passers by would best record them, and witnesses reported several important successes: coverage of the rally on social and traditional media featured numerous photos, videos, and sound clips of those who shelled out an undisclosed amount to be positioned where they would be most seen and heard.
In an interview after the protest, Avi gave a brief review of his efforts. "I'm a people person," he explained. "And I can sense what people want, and how to get it to them smoothly. There are a whole bunch of wealthy politicians hungry for exposure, for the opportunity to provide a good sound bite, for a chance to rail against political rivals, and I happen to know the right people. So in exchange for a small fee, I schmooze with some organizers and police, and there you go. Everyone benefits. I can get you a good spot for next week, in case you're interested – excellent proximity and line of sight to all the politicians and public figures."
The 45-year-old revealed that when he is not busy taking payment from politicians to make such arrangements, he lives a less glamorous existence. "I sell insurance," he disclosed. He claimed to do no marketing for the protest attendee placement services, relying only on word of mouth.
Politicians represent the bulk of clients the entrepreneur handles at the weekly Rothschild protests, but figures from other fields have engaged his services. "A good number of celebrities want to be seen there," he noted. "Some might have political ambitions, such as every third news anchor or TV pundit, but some just want to maintain their visibility, and don't necessarily care what the rally is about. Of course some do care, and that's fine, but I don't one way or the other. I'm here to provide a service to anyone willing to pay for it."
Please support our work through Patreon.