A spokeswoman for the arena insisted in a telephone interview this morning that all proper procedures had been followed.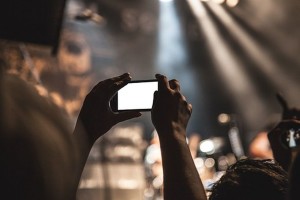 Tel Aviv, July 16 – A ticket holder at Hayarkon Park contended this morning that arena staff would not let him enter the facility because he was not carrying a mobile device with which to record the event by holding it aloft, in keeping with concert protocol.
Legendary hard rock group Guns 'n' Roses entertained tens of thousands of fans Saturday night at a long-anticipated concert, but one would-be attendee charged this morning that despite his paying the hefty cost of admission, security personnel escorted him off the premises upon discovering he had not brought a smartphone he could hold in the air and point toward the stage like every single other person in attendance.
42-year-old Guy Freier of Jerusalem claimed he handed his ticket to an usher, who asked whether he had a phone in his possession. Freier recounted that he showed the usher his non-smartphone, a Nokia, at which point the usher asked him to wait and summoned a supervisor.
"The supervisor told me I'm only allowed in if I have an iPhone or somesuch," he related. "I told them I don't have one – but I paid hundreds of shekels for this ticket, and I should be allowed in."
The shift supervisor was having none of it, and called for security. "Yeah, I raised my voice," conceded the man. "You bet I yelled. What business do they have not letting me in after I paid admission?"
A spokeswoman for the arena insisted in a telephone interview this morning that all proper procedures had been followed. "Our staff identified a ticketholder who was not carrying a smartphone, despite years of precedent establishing that as a societal norm," she explained. "Anyone attending an event of this nature is expected to adhere to the behaviors of the genre, just as a classical music concert attendee, or someone going to a standup comedy performance, must adhere to the mores of those contexts. When we explained the situation and asked him to leave, the ticketholder shouted and our staff felt threatened. Security was called to protect the ushers and other concertgoers."
The spokeswoman gave assurances that the ticket would be refunded. "It is an unfortunate incident, but it occurs every so often," she acknowledged. "We have protocols in place for this eventuality, which we hope disappears. It is not pleasant for anyone involved when a ticketholder betrays such ignorance, and takes it out on our staff."
Please support our work through Patreon.