The guide will soon be released as an app for mobile devices.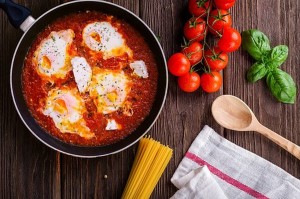 Tel Aviv, November 22 – Activists combating what they call Israeli appropriation of indigenous Palestinian culture have published a culinary guide that will help users determine whether by the food they eat they are engaging in colonialist imperialism by eating dishes with local pedigree or in malicious prejudice by eating dishes not of local pedigree.
A group of academics, social protesters, and Palestinian solidarity activists have issued "Hate or Just Appropriation? A Guide to 'Israeli' Foods," an alphabetical guide that features thousands of types of food, each one classified either as "appropriation" or "hateful rejection," based on whether that food type has any cultural linkage with Palestinian society. The group aims to raise awareness of Israeli treatment of Palestinians and Palestinian culture, and intend to use the guide to help shape discourse around the subject.
"People use words carelessly all the time," expounded the publication's editor, Ayama Dusch, a Cultural Studies major at Tel Aviv University. "It doesn't help to throw around accusations that Israeli consumption and marketing of, for example, pizza, is 'cultural appropriation' when as far as we know pizza isn't a traditional Palestinian food. Such pronouncements get jumped on by the dishonest defenders of Zionism, and we can't let them create such distractions from the awful truth. Instead of calling all Israeli eating appropriation, it's helpful to take a more critical approach and accept that some foods are not indigenous to Palestine, so Israelis eating them can't be committing cultural appropriation merely by doing so. Instead, when Israelis eat them they are specifically rejecting Palestinian cuisine, which is a hateful act." The guide will soon be released as an app for mobile devices, she added.
Ms. Dusch noted that while the guide compiles attempted to make its contents comprehensive, the sheer number of foods in existence rendered comprehensiveness an impossible task, so the team employed certain shortcuts. "We focused primarily on the types of food our Palestinian friends claim as their heritage, such as falafel, plus the foods at establishments within an eight-block radius of our favorite progressive hangouts in Tel Aviv," she explained. "A good deal of research went into this over the last year. Nevertheless, we acknowledge at the outset that we cannot hope to cover all the foods the aware, progressive person might encounter, so we have included a disclaimer at the front of the guide to the effect that any foods not specifically mentioned in the guide should be presumed to represent Israeli hate and rejection, rather than appropriation, but we have included an e-mail address to which comments can submitted in case the user finds what might be a miscategorization."
Please support our work through Patreon.