"If previous UNGA performances provide any indication, Mr. Abbas will give other candidates a run for their money."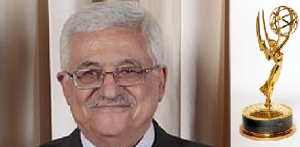 New York, September 19 – The Palestinian President's tour-de-force acting performance in the role of a responsible, honorable human being and national political leader will not be included in this year's nominations for awards in television arts, a spokeswoman for the Academy of Television Arts and Sciences announced today, but must wait another year.
Mahmoud Abbas, currently in the twelfth year of his first four-year term as president of the Palestinian Authority, is scheduled to address the United Nations General Assembly this Wednesday, playing the part of a leader with clear moral principles, diplomatic skill, and long-term vision, an acting role he performs each time he addresses assemblages of international figures. However, at least one of the three institutions administering the Emmy awards, which recognize excellence in televised performances, has now stated that acting prowess aside, Mr. Abbas in not eligible for inclusion in this year's batch of nominees. His performance will have to wait until the 2018 voting for consideration.
"I am sure, as are all the other Academy members, that Mr. Abbas will give as convincing a performance of a respectable person as ever once he ascends the podium in the assembly chamber," pronounced Ariel Doosie, the spokeswoman. "However, the nominations and voting for this year's awards have already closed. If previous UNGA performances provide any indication, Mr. Abbas will give other candidates a run for their money."
In his upcoming address, the Palestinian president, who also serves as Chairman of the Palestine Liberation Organization, an umbrella organization of Palestinian terrorist groups, is expected to lay out a vision for resolution of the Israeli-Palestinian conflict, including a restatement of long-held Palestinian red lines that must be respected in any final agreement. To date, Abbas has offered a compelling performance in the role of peacemaker, all the more challenging because he has done so without bring peace any closer – and all while convincing most of the international community that it is Israel, which has made or accepted numerous peace offers since the 1940's that the Palestinian leadership rejected, that has shown intransigence.
"The role requires a difficult transformation," acknowledged Alec Baldwin, himself a gifted and respected TV actor. "To go from someone who financed the 1972 Munich massacre of Israeli athletes, who continues to glorify Palestinian terrorism and incite violence, who offers lip service to Israeli legitimacy but in practice claims all of Israel, to someone whom everyone regards as moderate, pragmatic, and peace-seeking, is an acting challenge I'm not sure I could pull off. He certainly deserves at least a nomination. Let's wait till next ear and see."
"Unless he gets assassinated before then," added Baldwin. "Then we'd get to see him transform from corrupt dictator to martyr in a heartbeat, which requires no small acting skill."
Please support our work through Patreon.