"We support our party's campaign and the media's whipping up anger at the guy, but let's remember it's all just politics."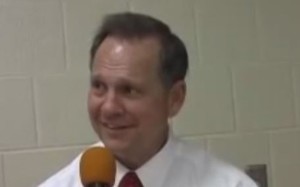 Mobile, Alabama, November 15 – As revelations of former Alabama State Supreme Court Judge Roy Moore's sexual pursuit of minors have generated anger and horror through much of the US, some followers of Islam in the country have wondered why others find that problematic.
Officials with several local and national Islamist groups have voiced confusion in private over the furor, but have refrained from public comment, lest speaking out in favor of seducing or raping underage girls blunt the momentum of a public campaign, waged by their political allies, against Moore's Republican Party. They nevertheless expressed some discomfort over what they called the hypocrisy of condoning outrage against a man for activities that dovetail with Islamist sensibilities, and that characterize traditional Muslim treatment of women.
In several conversations, members of organizations such as the Council on American-Islamic Relations and more regional or local conservative mosque associations gave voice to the incongruity. While the individuals requested anonymity, the aggregate picture that emerges from those interviews indicates that American Islamists understand the political necessity of demanding Moore's ouster over, for example, his alleged rape of a fourteen-year-old girl when he served as a prosecutor almost three decades ago. However, they feel no sense of outrage at Moore's behavior, since the subjugation of women and denial of girls' human rights would be at home in Islamic society through the ages.
"I get it, he's Republican, and Republicans are the enemy," stated Congressman Keith Ellison, one of the few interviewees who agreed to speak on the record. "That doesn't mean we Muslims don't feel awkward, pretending we object to sexual relations with young girls. Muhammad did it with girls even younger than fourteen, and it's been perfectly normal in Islamic society for the duration. So we support our party's campaign and the media's whipping up anger at the guy, but let's remember it's all just politics."
"OK, so he wouldn't be the guy I'd marry my teenage daughter off to," admitted one CAIR official. "But that's not because of some ideological or principled stance against marrying young girls off to older, possibly abusive men, especially if the man has influence. Our objection is to him and what he represents, not his actual behavior. Symbols are key here, more than substance."
"Me, I keep wondering what those girls were doing out without a male guardian," added a Detroit-area Imam. "This never would have happened quite the same way in an Islamic country."
Please support our work through Patreon.