"We could call on our people to riot in response, but I think that would kind of make their point for them," admitted a Jordanian official.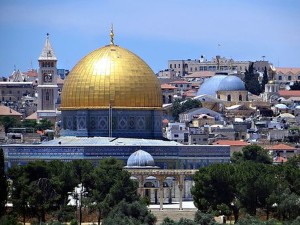 Cairo, December 28 – Continued unrest in the region following US President Donald Trump's announcement two weeks ago that it will relocate its Tel Aviv embassy to Israel's capital has prompted the administration to embark on a similar transfer to Jerusalem of all the country's diplomatic facilities in the region, out of concern for the safety and proper functioning of those facilities.
Undersecretary of State for the Middle East and North Africa Al B. Grudging told reporters at a press conference this morning that rebel violence in Egypt, sectarian violence in Lebanon, threats of terrorism in Jordan, and Palestinian incitement to riot leave the United States no choice but to protect its interests and personnel by transferring its diplomatic facilities to the closest safe location for a new headquarters, namely Jerusalem. Officials from those surrounding countries wishing to conduct diplomatic business with the US will have access to American commercial and diplomatic contacts through a new diplomatic compound in the Israeli capital that will house whichever embassies cannot be located in the target Mideast country for safety or other reasons.
"We are considering adding Iraq to the list," noted Grudging. "But the distance might prove prohibitive."
Grudging explained that Egypt and Jordan already have diplomatic relations with Israel. "As far as Lebanon goes, well, they're going to have to grow up and recognize Israel if they want to maintain ties with the US. We are considering suspending all aid to Beirut, in fact, if the country continues to use the Arab-Israeli conflict as an excuse to ignore its own development, entrench Iran's hegemony in the Levant, discriminate against Palestinians in its borders, and stunt its own democracy. Whenever they're ready, we'll be waiting in Israel's capital."
Arab reactions to the plan have been muted. "Well, we could call on our people to riot in response, but I think that would kind of make their point for them," admitted a Jordanian official who spoke on condition of anonymity.
"Hell, I can't blame them – not doing much good in Cairo, Beirut, or Amman as it is, so they might as well keep their people somewhere worthwhile," added a Jordanian colleague.
Analysts cautioned that the move could backfire, but might prove worth the risk. "The number one rule for State Department personnel is safety," stressed Brookings Institution fellow Tro Ling. "Of course the big danger is that the diplomats might be forced to upend the traditional State Department axiom of appeasing Arabs and pressuring Israel to do the same, and that would be inconceivable."
Please support our work through Patreon.