"This is an outrage," wrote one prominent community member on Facebook.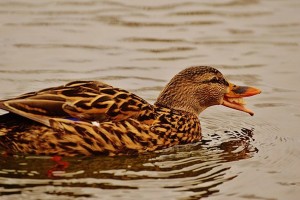 West Hempstead, NY, September 18 – Hundreds of Jews will gather this coming Thursday afternoon at Hall's Pond for an annual Rosh Hashanah ritual that demonstrates a desire to have one's sins cast away into the depths forever, but many in the area are voicing their displeasure upon discovering this week that the essential fulfillment of the custom does not involve throwing pieces of bread into the water for ducks, geese, or fish to eat.
Confusion, anger, and no small measure of defiance spread through the community yesterday and today, following a mailing by a local Rabbi detailing the procedure, its customs, and strictures. In the three-paragraph message, a Rabbi at the largest of three Orthodox synagogues in the area wrote that the ritual in letter and spirit focuses on penitence and repair of damaged relationships, and has nothing to do with taking chunks of bread and feeding them to wildlife.
"This is an outrage," wrote one prominent community member on Facebook. "I've been throwing bread to the ducks at Hall's Pond since I was a kid, and I teach my children to do the same. I used to roll down the hill there and get my clothes all grass-stained, and now they do, too. It's tradition, like having at least one unfortunate kid fall into the yucky water there each year. This is more than little upsetting." Numerous similar messages and comments appeared within hours of her post.
Tashlich, a ritual dating back at least six centuries, features passages and prayers revolving around a reference in the Biblical book of Micah asking God to cast human misdeeds into the watery abyss. The earliest direct source for the practice, from the early fifteenth century, already admonishes Jews not to throw bread into the water when the day coincides with the Sabbath, which in turn gave way in subsequent centuries to a blanket warning not to feed animals as part of Tashlich at all. Nevertheless, while certain important authorities and communities have avoided the custom of Tashlich entirely, it has gained mainstream acceptance in most communities, often along with duck-feeding.
The Rabbi who wrote the message expresses no regret for its content or tone. "This is the time of year to make a thorough examination of our habits, even ones that are ingrained at a communal level for generations," he insisted. "My job is not to sugar-coat; my job is promote growth, which involves leaving one's comfort zone. Of course it's a challenge to everything that came before. This wouldn't be the first time."
"Just imagine the uproar if I'd come out and said Tashlich isn't an appropriate occasion for socializing, either," he added.
Please support our work through Patreon.