Rumors have swirled for years that Clinton made a similar crude move on Arafat.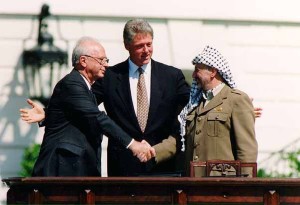 Tel Aviv, November 22 – The daughter of Israel's slain Prime Minister Yitzhak Rabin added today to the furor surrounding allegations of sexual misconduct by former US President Bill Clinton, disclosing in an interview that Clinton squeezed her father's buttocks as he placed his arm around him and Palestinian leader Yasser Arafat during the signing ceremony for the Oslo Peace Accord in 1993.
During a retrospective conversation with a journalist who covered the agreement, Ms. Rabin stated that she felt compelled to come forward now because she finally felt the courage to do so. "It is only now that several other women have mustered the strength to tell their stories that I, too, feel capable," she declared. "I can no longer remain silent. For more than two decades it has been important not to disrupt the peace process with scandalous revelations of this sort, but I could only keep quiet for so long."
The iconic photo of Rabin, Clinton, and Arafat on the White House Lawn – with the president putting an arm around each Mideast leader as the pair shook hands – captured the moment just before Clinton lowered his right hand and clenched it around the left side of Rabin's buttocks, she recalled. "My father was horrified," she remembered. "He was petrified, shocked that anything like this could happen, and that no one said anything. There were hundreds of people there, and no one, not a soul, even pretended to notice."
"My father suffered from confidence and security issues forever after that," she continued. "He shared his experience only with those closest to him, but came to doubt that it even happened, and that really undermined his self-confidence. I sometimes wonder if the security lapses before his assassination weren't a subconscious attempt at a cry for help." Mr. Rabin was shot and killed in 1995 by an Israeli extremist opposed to the concessions of the Oslo process.
Rumors have swirled for years that Clinton made a similar crude move on Arafat, but the Palestinian leader never gave indication he objected. "Israelis are always making things up," charged Arafat's widow Suha. "They made up that there was ever a Jewish homeland. They made up that Palestinians kill people. They made up that they have any rights. They even made up that they are human. Why should anyone believe them about Clinton?"
Ms. Arafat then embarked on a ten-minute diatribe accusing everyone but the cleaning staff at the Ramallah presidential compound for playing some part in the Palestinian leader's 2004 death of natural causes in a French hospital.
Please support our work through Patreon.