"Almond trees, like all trees, are not objects to be used or invoked by humanity at will, but creatures that deserve dignity."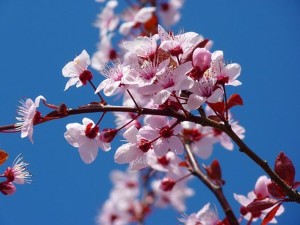 Anatot, Kingdom of Judah, July 13 – Ecology-minded activists and organizations issued a rebuke to the prophet Jeremiah today over what they termed his exploitative use of an almond branch to make an allegorical point.
Greenpeace, Sierra Club, and other environmental groups called on Jeremiah the son of Hilqiah to renounce his appropriation of plant material for rhetorical purposes, and to undertake not to tread upon nature again in his remonstrations with the people of Israel.
The prophet's inaugural vision incorporated an almond branch, "shaqed," as "almond" or "almond tree" in Hebrew uses the root sh-q-d, which in verb form indicates a commitment to accomplishing something promptly and diligently – representing the divine intention to implement the visions given to Jeremiah sooner rather than later. A Greenpeace spokesperson deemed the choice of a tree branch unfortunate and demeaning to the ecosystem.
"Instead of some other metaphor for alacrity, the prophet's vision knowingly exploits nature, and thereby cheapens it," asserted Sue Dossaiyentz. "Almond trees, like all trees, are not objects to be used or abused by humanity at will, but creatures that deserve dignity. The fact that Jeremiah sees them as objects to be used – as a stick is appropriated as a weapon or an instrument of discipline – is a disgrace."
Dossaiyentz pointed to Jeremiah's subsequent prophecy as evidence he has the capacity for metaphors that do not imply human exploitation of the ecosystem. "Immediately following his vision of the almond stick the prophet sees a bubbling pot facing north – there is a fine example," she insisted. "Unless one assumes there is animal flesh in the pot, that the pot was heated with a non-renewable, carbon-emitting resource, that the water was drawn from a source that could not spare it, and that the pot itself was manufactured in a process that involved damage to the environment, I see no reason that the same sensibility could not have been invoked for the prophet's initial metaphor."
Sierra Club representative Hugh Manitistynx added that the notion of "evil" coming from "the north" as represented by Jeremiah's vision of impending doom for Israel, betrays a prejudice against one of the four beautiful cardinal directions. "There is nothing wrong or 'evil' about the north," he charged. The entire anthropocentric narrative of these prophecies is disturbing to anyone with the sense to respect Mother Earth, who birthed and nurtures us. This is no way to show appreciation or gratitude for the investment she has made in us."
Please support our work through Patreon.