"This kind of overflow in spending obviously requires attention, but it would be unwise to assume it can be sustained over the long term."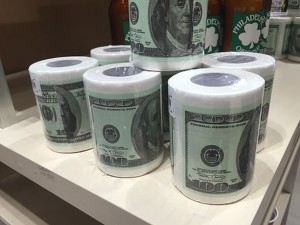 Jerusalem, November 8 – Ministry of Finance auditors have found that an initiative to construct a tremendous toilet down which to flush the public's money has far exceeded the funds allocated to it.
In a report to Minister of Finance Moshe Kahlon and Ministry Director-General Shai Babad, investigators reported that while the Double Underwater Currency Holding And Mutilation Program  (DUCHAMP) budget for 2017-2018 stood at 4.2 billion shekels, in fact the project has so far sucked in 6.6 billion shekels, with the figure expected to rise by a further 2 billion shekels by the end of the calendar year.
The more than 100% overspending represents an unprecedented figure for a project on such a scale, and economist expect the ministry and the Bank of Israel will take immediate measures.
"No one thought this project would show results like this even before it began its official operations," observed Zahava Asla, an analyst for The Marker. "But this should really get Kahlon's attention, because he's all about wasteful, high-profile public sector measures that backfire. I can't recall a single public sector ministry, let alone individual project, with this magnitude of wastefulness over such a short period. We should anticipate the next budget to take into account the money toilet's tremendous capacity."
Other analysts urged caution. "We don't yet know when the… the stuff will hit the fan, so to speak," admonished Tzahan Authaus of Globes. "This could be a fluke, a one-time burst that does not characterize the true capacity of the toilet over time. This kind of overflow in spending obviously requires attention, but it would be unwise to assume it can be sustained over the long term."
Previous projects to waste public funds have enjoyed only mixed success. A 2010 effort to burn several hundred million shekels in cash ran into trouble when a thunderstorm inundated the downtown Tel Aviv thoroughfares that had been blocked off for the purpose, washing away most of the cash. Official estimates vary, but it is believed that citizens managed to collect up to 80 million shekels, a consequence that then-Minister of Finance Yuval Steinitz called an "abominable subversion of what government is about."
Other initiatives to reduce the amount of money available to citizens have included periodic pressure on the Bank of Israel to issue less currency, but those measures have also failed to produce results, as the political and governmental figures tasked with overseeing a reduction of the currency supply have neglected to implement the necessary controls, fearing a lack of resources with which to engage in their traditional cash bribery.
Please support our work through Patreon.