The leadership has convened to discuss what can be done, primarily to find a way to blame Israel.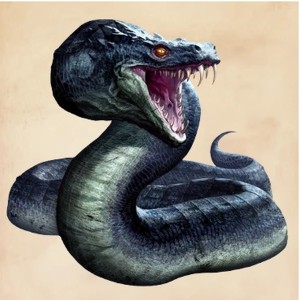 Rafah, January 3 – Efforts by the militant Islamist group that controls the Gaza Strip to develop and maintain a subterranean logistical and combat infrastructure met a hurdle over the weekend after a new portion of the excavations opened a portal to the lair of a large, murderous serpent that targets non-magical humans. As of Monday evening, more than 40 fatalities among the Muggle population had been recorded, but health officials in Gaza warned that the figure might already be higher.
Preliminary reports indicate that an attempt on Friday to dig a shaft from an existing tunnel in the Shuja'iyya Refugee Camp neighborhood of Gaza City created an aperture to a vast underground lair of a basilisk, an immense venomous snake that can kill its prey either by striking with its fangs or by making eye contact. Forty-one Gazans are known to have perished since then from encounters with the basilisk, all of whom were born to non-wizarding families, according to Gaza Ministry of Health spokesman Jinn Wizli.
"The figure we have so far represents only the confirmed basilisk victims," he stressed. "Autopsy results from the several that have been conducted do not indicate a cause of death, leading us to believe that they were killed by the serpent's gaze alone. Gaza has not faced a peril of this magnitude since the last war in 2014." That 51-day war with Israel claimed more than 2,000 dead in Gaza, though most of them were combatants.
"Our resources are already stretched thin, as [Palestinian Authority President Mahmoud] Abbas has refused to allow essential medicine and medical supplies into Gaza," he added. "But at present we would have no idea what to do even if we had fully stocked hospitals and pharmacies – no one seems to know how to prevent or treat this threat. In any case, the leadership has convened to discuss what can be done, primarily to find a way to blame Israel."
The only confirmed case of basilisk attacks in recent history occurred in Scotland in the early 1990's. The spree of attacks against Muggle-borns came to an end when the beast was slain with a goblin-made, jewel-encrusted sword pulled from an old hat delivered by a phoenix. The whereabouts of the hat, phoenix, and sword remain unknown, and so far the Hamas government has yet to establish contact with any of those involved in the 1993 episode.
Wizli remains optimistic. "Eventually the basilisk will run out of victims," he predicted. "Then it will probably move on to attacking Jews. That means millions of Arabs have to die first, but it's a price we're willing to pay."
Please support our work through Patreon.