"Ephron was really giving him the hard sell," recalled a witness.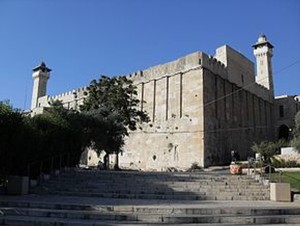 Kiryat Arba, Canaan, August 31 – Negotiations over Abraham's purchase of a burial site for his wife concluded this morning, but witnesses reported this afternoon that at first, sellers attempted to convince the Hebrew patriarch to acquire a time share on the property instead of buying it outright.
Abraham, 137, completed the purchase of the Machpelah complex, a field with a cave in the Hebron area, following complex talks with Hittite landowners. Ephron, the titleholder who sold Abraham the parcel, initially attempted to convince him that a time-sharing arrangement would suit his needs better than total acquisition of the property, warning Abraham that the maintenance costs of perpetual care for the site made purchasing it a move of questionable financial wisdom. Abraham nevertheless insisted on buying the field and cave, and the two settled on a price of four hundred shekels of silver.
"Ephron was really giving him the hard sell on a time share," recalled a witness by the name of Aner. "It started out low-key enough. First Abraham came in and expressed interest in a deal for the parcel, and the tone was polite, if formal. I mean, the man did just lose his wife of who knows how many years. But when things weren't concluded right off the bat, Ephron came in and put on the sales pressure."
"The whole thing was orchestrated in a very specific way," added Eshkol, another onlooker. "I hear Ephron had a bunch of ringers there, too, pretending to agree to that same kind of time share he was trying to peddle, just to up the peer pressure on Abraham. In the end, though, Abraham decided he wanted to buy the whole thing, and that was that."
Real estate experts differ on the wisdom of both Ephron's and Abraham's actions. "He should have got the time share," lamented Rhee Max. "Fractional ownership is the way to go – how often is he going to visit the grave, anyway? A few times a year? And how much longer does he expect to live, at his age, that he's even going to be around much longer to make all these visits? Now, I understand not wanting to settle for less than actual ownership, and a right-to-use arrangement doesn't fit Abraham's needs, but I think the buyer made a mistake here. I think if the seller had insisted on a slightly higher full price, we'd be seeing a different result."
"Both sides I think got what they wanted," argued Ezra Nawi, who has experience with property deals in the area. "The buyer gets to claim undisputed rights for his descendants, which might come in handy. And four hundred shekels is way above market value, so the seller can be happy, at least until someone reports him to the Palestinian government for selling land to a Hebrew."
Please support our work through Patreon.