"We can only wonder how casualty numbers would be different had the authorities in Tehran been able to strike with nuclear technology."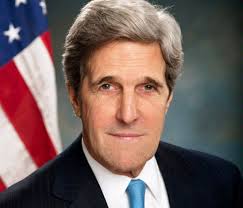 Washington, June 7 – Former Secretary of State John Kerry lamented this morning that the Islamic Republic of Iran does not yet possess atomic weapons, as the deployment of such devices against the Islamist hostage-takers in that country's parliament today would have ended the standoff quickly.
Kerry, whose tenure under President Barack Obama was dominated by the administration's agenda of clearing Iran's path toward a nuclear weapon, observed that if not for opponents of the previous president's Iran policy, the Ayatollahs could be that much closer to breakout, the point beyond which the production of atomic weapons is all but assured, and that he would have preferred to see a nuclear-armed Iran confronting the terrorists in Tehran today.
"The suicide bombing at the tomb of Imam Khomeini may not have been preventable even with nuclear weapons," acknowledged the former secretary. "But certainly the judicious use of one or two atomic bombs on the parliament would have guaranteed no more hostage situation. Instead, twelve people are dead, many more injured, and we can only wonder how those numbers would be different had the authorities in Tehran been able to strike with nuclear technology."
Kerry's remarks were initially misunderstood by reporters, who had assumed the Tehran hostage crisis to which he referred occurred in 1979, concurrent with the Islamic Revolution that brought Khomeini to power, and when his followers captured the personnel of the US Embassy in the Iranian capital and held them hostage. While the former secretary acknowledged he did not have that incident in mind, he agreed that the situation would have been more to his liking if the Iran of 1979 already possessed nuclear weapons.
"The president and I worked very hard to open a legal path to nuclear arms for Iran," he explained. "As do many other members of the previous administration, I continue to double down on the wisdom of a policy that brings a regime that threatens our allies with explicit threats of genocide closer to the capacity to make that a fait accompli. In the process, naturally, I must also express regret that while the president and I could do everything in our power to speed up Iran's journey toward nuclear weapons capability, we were stymied in our efforts to speed the process up to the point where Iran reached that capability thirty-eight years ago instead of ten-to-fifteen years from now. Who knows what we could have achieved without all that political opposition?"
"Goddamn that Bibi Netanyahu," he added.
Please support our work through Patreon.