Rabin's candidacy for sainthood has been a matter of discussion within the Church of the Peace Process for more than twenty years.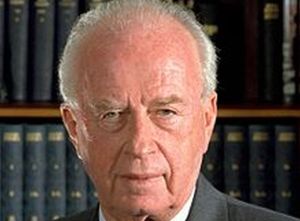 Tel Aviv, September 12 – The head of one of Israel's most venerable ideological institutions has initiated a process aimed at recognizing late Prime Minister Itzhak Rabin as a saint, officials in the Church of the Holy Concession announced today.
Cardinal DeFee Tiszt told reporters at the Church's headquarters in North Tel Aviv Tuesday morning that Pope Delusius II had already designated Rabin a Servant of the Peace Process, the first step toward full canonization. A special office of the Church will now handle investigation of Rabin's life and works, with an eye toward any miracles he performed, even posthumously.
"It is only fitting that one of the pioneering members of this movement be recognized as a saint," pronounced Tiszt. "The Holy Father has seen fit to begin the process, and it is our fervent prayer that it be concluded as soon as possible."
Rabin's candidacy for sainthood has been a matter of discussion within the Church of the Peace Process for more than twenty years, beginning immediately after his martyrdom in November 1995. According to Church observers, the canonization would have started then, but for opposition from lifetime rivals of Rabin in the Church hierarchy, such as Shimon Peres. Following Peres's passing a year ago, Church officials have felt less restrained in according Rabin this posthumous honor.
"The two had different views of Church doctrine," explained Cardinal Joseph Beilin, who participated in many of the formative events surrounding the establishment of the Church. "Rabin felt the peace process must be conducted in such a way that plaudits accrue to the Prime Minister serving at the time agreements are concluded, whereas Peres adhered to the tenet that it was the Minister of Foreign Affairs who deserves everlasting honor from the enlightened nations of the world."
Technically, noted Cardinal Beilin, the requirement that the candidate perform some corroborated miracle does not apply to martyrs, but that the committee will nevertheless attempt to classify several acts as miraculous, just to be sure. One possibility involves the survival of Rabin's political career after a scandal involving unreported foreign currency assets when he was serving as Ambassador to the US in the early 1970's.
Another possible miracle involves Rabin's stewardship of the first Labor government to lose an election, a tradition that has continued with only a handful of exceptions ever since. While he shares credit with Golda Meir and Peres for that deed, the magnitude of the feat, surrendering control of the government for the first time in Israel's then-30-year history, has some admirers arguing he deserves Church recognition for it.
Please support our work through Patreon.