"Technically, since Iran is trying to develop the nuclear weapons and delivery technology domestically, we can use the word 'homemade.'"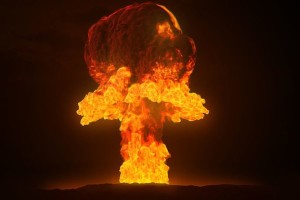 Gaza City, June 5 – Journalists and editors of new operations covering the Middle East have begun to prepare for the eventuality of a nuclear-armed Iran hostile to Israel, and for the eventuality of reporting on an atomic weapons strike against the Jewish State in a way that downplays any negative effects of the attack and portrays any retaliatory or even preventive action by Israel as unjustified and disproportionate.
In keeping with reporting trends governing stories about Israeli military matters, if Iran attacks Israel with nuclear weapons,  the majority of mainstream media organizations plan to adhere to the same line they have adopted through successive rounds of fighting between Israel and Hamas, to the effect that Palestinian offensive capabilities are dismissed in news reports as consisting of crude, homemade rockets, implying minimal impact on Israel, when in fact a large number of such missiles are manufactured in Iran or China and smuggled into the Gaza Strip. In the case of Iran, the reportage will describe Iran's ballistic-missile-delivered weapon of mass destruction in the same terms.
"Technically, since Iran is trying to develop the nuclear weapons and delivery technology domestically, we can use the word 'homemade,'" explained Jeremy Bowen of the British Broadcasting Corporation. "And the scale of destruction of such a device means precision targeting is hardly relevant, so we can also use the word 'crude.' As anyone engaged in this industry for any length of time knows, terminology is used differently regarding Israel as compared to its use about anyone else."
Bowen referred his interlocutor to coverage of the recent terrorist attacks in London and Manchester, and noted the contrast with media terminology, especially by the BBC itself, in reference to similar attacks against Israel. "We have no problem using the term 'terrorism' when applied to attacks on non-Israelis," he observed. "But that becomes a no-no when Israelis are attacked. Suddenly 'terrorist' is too loaded a word. So it's hardly unprecedented that we might use 'crude, homemade' differently when it comes to Israel as a target of nuclear weapons."
He added that it matters little whether the actual weapon, if deployed against Israel, was manufactured by Iran itself. "The narrative is the important thing," he stressed. "Hamas hasn't been relying on crude Qassam rockets for years now, what with their arsenal of Fajrs and whatnot from Iran via Sudan. But the narrative demands we portray Israel's enemies as gritty, spunky Davids to Israel's Goliath. We have a job to do, and that often demands crude, homemade propaganda techniques."
Please support our work through Patreon.