"It's important for Israel to show solidarity with the people and… industry of Las Vegas in this difficult time."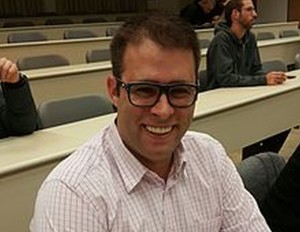 Jerusalem, October 2 – A mass shooting at a concert in Las Vegas last night has prompted Israeli lawmaker Oren Hazan to begin enthusiastic preparations for a mission to provide aid and solidarity to the people of that city, aides and acquaintances are reporting.
Knesset staff, political associates, and government officials associated with the legislator have witnessed at least four occasions in the last hour during which Hazan has expressed urgency, even excitement, regarding organizing or participating in a relief mission to Las Vegas. He appeared particularly intense when discussing the venue of the shooting, a casino hotel on the city's famed Strip, and several times voiced his desire to be on the scene there, or in the vicinity.
"I think it's really, really important for Israel to show its solidarity with the people and… industry of Las Vegas in this difficult time," Hazan explained to a fellow Likud member in a phone conversation. "I know it's not a natural disaster on the scale of the Mexican earthquakes or the hurricane in Houston, but I'm sure you agree it's vital that Israel be seen as taking an active, prominent part in relief efforts. In fact, I volunteer to be the first one in Vegas on this mission."
"Heck, I'll go as an advance party, just to scout things out," volunteered Hazan to an official at the Ministry of Foreign Affairs. "You can send me now. When the others get there, simply let me know and I'll hook them up with whatever needs to happen."
Hazan revealed that he had given extensive thought to the details of the mission he envisions. "One thing the city will really be challenged with right now is its tourist economy," he was heard to state in an attempt to get military leaders on board with his plan. "So if you send me as an advance guard with a good amount of cash, I can get the ball rolling, so to speak, and show that when Israel sends relief, it knows what it's doing, and knows just what the recipient needs."
As of midday Hazan's mission had received no official endorsement or financial support from any government entities, but at least one other Member of Knesset has expressed interest in joining Hazan's endeavor. "Count me in, Oren," volunteered Taleb Abu Arar of the Joint List alliance of Arab parties. "Tell me, do you happen to know extradition law?"
Please support our work through Patreon.