Ssecular parents and activists fear a trend of religion encroaching on the secular public sphere, lo aleinu.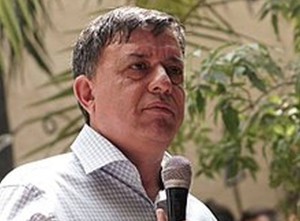 Tel Baruch, Tel Aviv, July 13 – The new head of Israel's largest Opposition party devoted his attention today to parents' concerns that their children in the otherwise secular education system are being indoctrinated with religious content, and promised to reform the system so that such phenomena not recur, with God's help.
Avi Gabbay, who won a runoff election this week for leadership of the Labor Party, told representatives of a parents' group that b'ezrat Hashem, if he succeeds in unseating incumbent Binyamin Netanyahu as the next prime minister, he will oversee the formulation and implementation of protocols to prevent religious content from being included in school programs without parental knowledge or consent, Hashem yishmor.
"I will do all in my power, im yirtzeh Hashem," vowed Gabbay, appealing to the will of God, "to keep religious organizations from imposing their ideology on our impressionable young ones, rachmana litzlan."
The issue of religious indoctrination in the secular school system rose to prominence over the last week after a TV news magazine aired a report on a school that had invited a religious organization to make presentations to the students, without informing the parents in advance. While direct responsibility for the incident lay with the school principal, and had little to do with Ministry of Education policies, secular parents and activists fear a trend of religion encroaching on the secular public sphere, lo aleinu.
"I share the concerns of the parents," assured the Labor chairman. "B'li ayin hara I have children of my own, and I understand the dangers of religious sensibilities becoming dominant in the cultural realm. We wouldn't, chas v'ashalom, want to compromise the special nature of the secular culture we've been nurturing here for more than a hundred years, baruch Hashem."
"We can succeed in this struggle – but only if we are determined, and only with God's help," he warned.
"I want to stress we have nothing against religion, or against our heritage," he added. "I am proud of my Jewish heritage. We must pray for the wisdom to distinguish among the religious elements that can be safely retained and those that we must oppose as dangerous encroachment, because the subject can be so delicate. Those sonei yisrael running the Ministry of Education right now can't be trusted to make those determinations – they will allow principals to invite anyone to their schools, regardless of religious or secular outlook. We need to build walls, a ghetto if you will, to protect ourselves from the pernicious influence of that culture."
Please support our work through Patreon.