"Of course we're disappointed," declared a smirking Rabbi Phineas Birnbaum.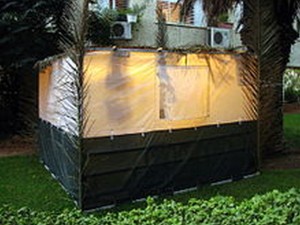 Caldwell, NJ, October 10 – Municipal authorities ruled with the plaintiffs in a hearing this afternoon that a ritual structure built on public land for the Jewish festival of Tabernacles must be dismantled within fourteen days, an outcome that observers say did not seem to perturb the defendants.
Members of the Adath Israel Synagogue constructed a Sukkah, a kind of makeshift booth, last week in preparation for the holiday that began this past Wednesday evening. The Sukkah sits on part of a public park that abuts the synagogue, and while it does not obstruct passage, neighbors complained to Caldwell authorities that the structure must be taken down, as it disrupts the character of the neighborhood and requires a permit for which the synagogue administration never applied. Tuesday afternoon, Caldwell administrators issued an injunction ordering Adath Israel to remove the Sukkah within two weeks. Despite the unequivocal defeat, representatives of the synagogue displayed no indication that they were displeased by the outcome, and made no mention of appeal or objection. Some witnesses also reported that several members of the synagogue administration even laughed as they shrugged at the announced verdict.
"This township finds in favor of the plaintiff, and orders the booth dismantled no later than the twenty-fourth of October," ruled Supervisor Ignatius (Iggy) Norrence. "Failure to comply will result in fines and other penalties."
Synagogue leaders announced their intention to follow the ruling without delay. "Of course we're disappointed," declared a smirking Rabbi Phineas Birnbaum. "Devastated, really. I don't have the words to describe it. But we respect this lawful ruling, and will be sure to follow it to the letter."
Opponents of the Sukkah voiced satisfaction at the ruling, but disappointment that it failed to cause any apparent distress to the Jews. "Yeah, I feel vindicated," allowed Reynard Heydrick, 60, one of the plaintiffs. "But I don't think those Jews quite understand they lost, and that robs me of some gratification. I suspect they've got something up their sleeves, but Lord help me if they're going to get away with flouting the law on this." He and several allies agreed to camp out near the Sukkah to monitor its presence, and to alert authorities at midnight on October 25th if the Sukkah has yet to be dismantled.
At press time Tuesday evening, Heydrick and four associates had been arrested and fined for misdemeanors related to camping in a public park without a permit.
Please support our work through Patreon.