The charms that protect the train carriages had caused the explosives some attackers were carrying to detonate.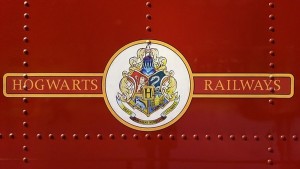 Hogsmeade, May 15 – Terrorists trying to take control of a magical train carrying students back to wizarding school in Scotland were unable to complete their mission, witnesses are reporting, and suffered heavy casualties in the process.
A group of militants affiliated with the Popular Front for the Liberation of Palestine – General Command claimed responsibility for the failed attack, in which all sixteen members of the assault team were killed or captured. A Hogwarts representative told reporters no students or train crew were harmed.
Students on the Hogwarts Express from King's Cross Station in London related that about three hours into their journey back to school, a group of Arabic-speaking armed men attempted to bring the purple locomotive to a stop, board the train, and take the students hostage. Unconfirmed reports claimed that the PFLP-GC terrorists intended to negotiate with the Ministry of Magic in an effort to force the latter to intervene in the muggle world in favor of their faction.
"The train slowed down, but didn't stop for as long as it did when those dementors boarded," recalled a fifth-year, referring to an incident several years ago. "Not sure what exactly happened, but then the train lurched and started moving again. I have some friends in the first car who told me they saw these muggles in ski masks, holding guns or something, but that the few who managed to clamber aboard walked into a wall of bat-bogey hexes, stunning spells, and at least one 'tarantella' jinx that makes your legs unable to stop dancing."
Hogwarts authorities apprehended five of the seven PFLP-GC members who made it in board after pointing their weapons at the Hogwarts Express driver and ordering him to stop, in addition to the bodies of the other two, both of whom succumbed to injuries incurred as a result of the students' wandwork. The bodies of the remaining nine terrorists were located by wizard search teams alongside the tracks; the charms that protect the train carriages had caused the explosives some were carrying to detonate.
"It's odd," remarked Hogwarts Deputy Headmaster Minerva Mcgonagall. "You'd think that as people with the goal of freeing their homeland from the clutches of the enemy, these folks would try to generate as much sympathy for their cause as possible in the wizarding world. Merlin knows how much affinity alumni of a certain house at Hogwarts have for racist ideologies. But I guess the naked pursuit of power comes first. Which also reminds me of that house for some reason."
Please support our work through Patreon.