"You know what they say about the sincerest form of flattery."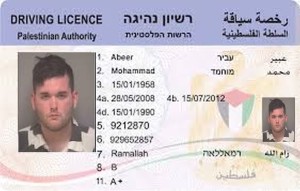 Ramallah, August 13 – Ministry of Transport officials of Mahmoud Abbas's government declared today they will award a Palestinian driver's license to the man who drove his car into protesters countering the demonstration of Neo-Nazis in Virginia yesterday, in recognition of the solidarity and tribute the automotive achievement carries.
Deputy Minister of Transport Rannim Daoun and Licensing Bureau Chief Hittan Rahn convened a press conference this morning to announce the granting of the document, which will be sent to James Alex Fields, Jr., of Ohio after the latter participated in a far-right march in Charlottesville, Virginia yesterday, then plowed his vehicle into a crowd of counter-demonstrators, killing three and injuring sixteen. In performing such an act, they pronounced, Fields had lived up to some of the central ideals of Palestinian culture, and therefore deserves recognition appropriate to his heroic deed.
Fields, 20, was photographed wielding a torch at the rally before driving his car into the crowd, and the Ministry of Transport will use either that image or the one from his mugshot for the license. "The technical details are secondary, really," noted Daoun. "We simply feel the need to show our appreciation for Mr. Fields's adoption of our Palestinian form of automotive terrorism. He is welcome to visit Palestine and drive on our roads anytime he wishes, provided he ever gets out of jail." Daoun did not discount the possibility of Fields's release as part of an exchange of prisoners involving terrorists detained by Israel and Israelis held by Hamas.
"You know what they say about the sincerest form of flattery," seconded Rahn. "But beyond that, we have a serious affinity for Nazis, as anyone who has studied history knows. The Mufti of Jerusalem, Haj Amin al-Husseini, wanted to duplicate the Final Solution to the Jewish Problem here in Palestine if the Germans managed to get across North Africa in 1942. That didn't happen in the end, but his legacy endures, and we, as a culture, do what we can to bring his dream closer to reality, as best we can manage. We salute all those who share our vision, not just in Palestine."
Some unresolved questions remain, however. "This is not strictly the purview of the Licensing Bureau, so I can't give comprehensive information, but we don't yet know whether Mr. Fields will receive a lifetime Palestinian pension, as well," added Rahn. "Not until the Jewishness of any of the victims can be established. I need not remind you that previous perpetrators of such acts, such as in France, have been denied such payments when it turns out none of their victims were Jewish."
Please support our work through Patreon.