The practice has broken numerous prisoners, assisting the security forces in foiling impending terror attacks and helping maintain discipline within the prisons.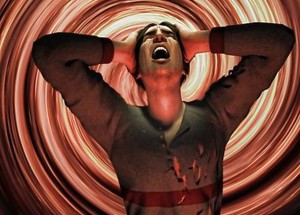 Megiddo Prison, September 17 – Military and civilian incarceration facilities are set to expand a pilot program that torments inmates by playing lousy cover versions of songs they love, a Prison Services spokesman announced today.
At Megiddo near Haifa and at Mahane Ofer, a military prison north of Jerusalem, authorities have experimented since January with a system that identifies the favorite music of each inmate, and, when psychological pressure is necessary, an inferior cover or performance of that music is streamed via the prison audio system into the cell where that prisoner resides.
"We're going to roll this out across the system where we can, after proven success in the pilot phase," stated Sergeant Moti Crüe during a press conference at the Megiddo civilian detention facility. "In some places the technological infrastructure already exists, and we can install the feature on top of existing systems – it's a software installation and that's it. Elsewhere, we'll have to wait until the next overhaul of the communications and computer systems, but within a couple of years this should be online just about everywhere."
In addition to amateurish renditions of Um Khulthum classics by D-List lounge singers and non-native Arabic speakers, the playlist includes the entire roster of songs performed by William Shatner, David Hasselhoff, and a numerous other personalities whose versions of otherwise pleasing or important works induce the listener to wonder what the hell the producer was thinking. Sergeant Crüe related that the practice had broken numerous prisoners, assisting the security forces in foiling impending terror attacks and helping maintain discipline within the prisons.
The system works by identifying the likes and dislikes of each inmate via social media and other research, and tailoring the playlist to suit each one. It took maybe an hour before we started seeing results," he noted. "In one case, an inmate broke down and spilled numerous important pieces of information after we put Limp Bizkit's 1998 cover of George Michael's "Faith" on repeat. We're talking about a prisoner who withstood months of intense interrogations. This made him just snap. He sang about smuggling, about terrorist plots, about accomplices, you name it." Similar results, observed Crüe, were obtained with the 2009 Glee cast cover of Journey's "Don't Stop Believing," Atari's atrocious 2003 version of Don Henley's "Boys of Summer," and a motley collection of wannabes in 2010 remaking the 1984 celebrity charity number "We Are the World."
Prison authorities hope to expand the program beyond the audio systems in the incarceration facilities. "We implant chips in every Palestinian security prisoner," explained Crüe. "That's well known to conspiracy theorists already. But what we can do now is tweak the chips to play these monstrosities in their heads for the rest of their lives. I can't wait to see how they react to James Taylor's 1977 soul-sucking cover of Jimmy Jones's 1960 R&B classic "Handy Man."
Please support our work through Patreon.