"A truly God-fearing society would see  the petty, manipulative, egotistic, narcissistic, greedy blowhards of the Knesset crushed into the ground."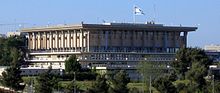 Jerusalem, November 14 – Following the announcement by a prominent Iranian cleric that the deadly earthquake there on Sunday morning reflected divine displeasure for various forms of sexual immorality, a leading ultra-orthodox Rabbi in Israel declared that the same seismological phenomena have spared Israel's Knesset compound and various other governmental facilities because the society is mired in similar sins.
Rabbi Mendl Peyshent of the Fakhnyuct sect of Hasidim, an influential voice in Haredi affairs, included in his weekly radio discourse a diatribe against what he called the invidious immorality that keeps Jewish society from attaining its moral potential, as a result of which failure the Almighty refuses to send earthquakes to strike down the oppressive, corrupt entities that are the Knesset and various government ministries.
"The sexual perversion of our times drives out the Divine Presence," he admonished his disciples in Yiddish. "A truly God-fearing society would see such despicable institutions crumble into dust. Respect for our relationship with Him, and awareness of His immanent glory would bring about a different sort of existence, an existence in which the petty, manipulative, egotistic, narcissistic, greedy blowhards of the Knesset would be crushed into the ground as the walls of Jericho before Joshua."
"It is only because so many Jews have adopted the unholy immorality of the West that all of us suffer," he continued. "The decadence of those who wish to repeal all moral laws, who seek to dilute the boundaries of proper relationships to the point that they become meaningless, and thus permit all manner of perversion – that is the reason the Knesset has not been swallowed by a 9.2-magnitude earthquake. That is the reason the useless Ministry of Culture can still function, instead of as it should be, dashed to pieces as it descends into a fiery tectonic abyss."
"It is not enough that we, in our holy community, refrain from engaging in or endorsing such filth," he concluded. "All of Israel are spiritual guarantors for one another. We bear responsibility for what happens beyond the virtual walls we have erected around our neighborhood. We will continue to suffer the sight of the Knesset sitting undisturbed on its plateau if we fail to reach out to others and teach them."
The Rabbi added that in light of events of the last several years it might be prudent to consider gentle persuasion and modeling of proper behavior rather than, for example, stabbing onlookers at a Jerusalem Pride Parade.
Please support our work through Patreon.