Must a bus hired to transport a group of women be treated in the same manner as a bus that serves a mixed population, or does the vehicle's status vary with the composition of its passengers?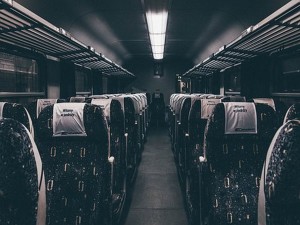 Bet Shemesh, September 14 – Controversy over the place of women in the Haredi community erupted again this week after Rabbis issued divergent rulings on whether women may sit in the front section of a bus if the entire vehicle has been reserved for females.
Responses to identical queries by congregants of two different Rabbis in this city west of Jerusalem came to opposite conclusions in responses published yesterday, leading to tension between the two groups and threatening a fragile truce between factions.
A disciple asked Rabbi Naftali Ban earlier this week whether a coach that has been hired to transport a group of women must be treated in the same manner as a bus that serves a mixed population, or does the vehicle's status vary with the composition of its passengers? Rabbi Ban answered that a bus segregated by gender retains its designation as a place of sanctity in the manner of a synagogue with a permanent partition between men and women, and that therefore the women must restrict themselves to the rear of the bus even when no men are present.
The same question was put to Rabbi Minhag Shoteh, who came to a different conclusion: that as long as they continue to board from the rear door of the vehicle, in keeping with community standards, in the absence of men the women may sit anywhere inside. His written answer emphasized the importance of tinted windows, lest males be tempted to gaze at them.
Followers of the two Rabbis clashed in the streets of Bet Shemesh this morning after the differing rulings came to light, reigniting divisions over a proposal to build partitions at bus stops to separate males from females, a municipal move that was narrowly defeated in the City Council last spring and still constitutes a sore point for proponents of greater modesty. Followers of Rabbi Shoteh face accusations of promoting looseness and harlotry, a charge at which they bristle.
"It's not OK to react like that – it's downright childish and primitive," insisted Rabbi Medi Yivvel, a neighbor of Rabbi Shoteh. "We know that our ancestors in Europe didn't tell people to have separate wagons for men and for women. And as the Rabbi explained in his ruling, a bus is not a shul. Except in Monsey."
"This is an unacceptable breach of modesty," argued Shraga Pozelaw, a disciple of Rabbi Ban. "A bus is large enough to have the status of a structure attached to the ground, and is treated as a building. Once enough trips have taken place in the bus in which the sanctity of male-female separation is demonstrated, it has a chazokah," an established presumption, a status that automatically obtains unless and until it can be shown to change by legitimate means.
Each camp has announced a rally to protest the other and to call on them to reverse the rulings. Plans to bus in allies from elsewhere have encountered problems as organizers attempt to sort out "female" vehicles from "male" ones, lest their mingling lead to mixed dancing.
Please support our work through Patreon.